Davos extends warmest winter welcome to China's tourists
The high-end Swiss resort aims to help snow sports enthusiasts maximize their vacations
Davos, Switzerland, which is hosting the annual World Economic Forum from Jan 17-20, has also become the destination of choice for Chinese holidaymakers looking to indulge in a spot of skiing.
The highest town in Europe, which stands at 1,560 meters, is giving China's winter sports enthusiasts a high altitude, high octane winter rush as they come to revel in its many delights.
Zhang Rui, deputy general manager of Beijing branch of Utour Group Co Ltd, China's largest outbound tour operator, said: "The company has planned a number of new products to cater to the increasing demands of Chinese travelers."
He continued: "Previously Chinese people preferred to stay in Switzerland for only one or two days, but an increasing number are now choosing to spend their entire vacation in the country. And Davos, which has long been a favored winter holiday destination among Europeans, has now assumed the same status among Chinese holidaymakers."
In a bid to help the growing number of Chinese tourists to get the most out of their experience, the local tourism board has employed a number of Chinese skiing instructors, such as former top freestyle skier Song Shuyao. Song believes that her passion for the sport will become infectious among visitors.
"I believe whoever touches the snow will love skiing," she said. "Whoever starts to love skiing will demand more from facilities and the environment. Therefore, they will want to try skiing in the Alps."
Research by the Switzerland Tourism, which analyzed hotel check-in records, showed that the percentage of independent travelers to the country has more than doubled over the last three years, from 10 percent to 25 percent.
This percentage is expected to reach 50 percent in the near future.
Simon Bosshart, director of Switzerland Tourism, Asia-Pacific region, said that while shopping and sightseeing continue to preoccupy most Chinese tourists, other pursuits have gained in popularity in recent years. Bosshart believes that as more holidaymakers look to escape high-pressure, polluted environments, demand will also grow for scenic trails and nature resorts. For now, though, he feels the country can capitalize on its reputation for winter sports.
"Davos is a winter sports metropolis for skiing and snowboarding fans from all over the world. At altitudes between 1,124 and 2,844 meters, guests will find 58 ski lifts, 300 km of slopes, 75 km of cross-country skiing tracks, two artificial ice-skating rinks and Europe's largest natural ice rink and the new 'Ice Dream' for ice hockey, skating and Bavarian curling", he said.
Bosshart views winter sports in China as a growing industry, which will be further impacted by the winter Olympics in 2022. About 300 million Chinese are expected to participate in snow sports by 2022. However, fewer than half of China's 568 snow resorts have reached international standards.
This lack of high quality provision has given Switzerland a definite market advantage.
"Up to 35 percent of Chinese skiers are willing to go abroad for better snow experience," said Bosshart. "Switzerland has a good reputation for that. We will adjust the current snow tour products to meet the needs of Chinese tourists."
Bosshart also described Switzerland as one of the safest countries in the world with one of lowest crime rates.
More relaxed visa policies have also made Switzerland more accessible to Chinese tourists.
"The visa office is dedicated to providing the best service to Chinese tourists. Currently 45 percent of Schengen visas issued by Switzerland are long term or multiple entry visa," said Bosshart. "The process only takes up to 48 hours." There are currently 15 Swiss visa centers in China, including those in Shenyang, Wuhan, Chengdu, Hangzhou and Nanjing.
Contact the writers at yangcheng@chinadaily.com.cn and renxiaojin@chinadaily.com.cn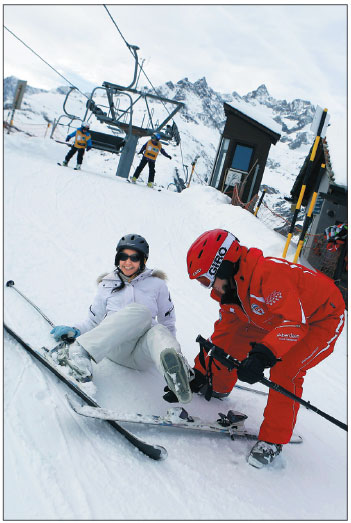 Chinese ski instructor Li Yuanliang (right) helps a client to stand up after a fall during a private beginner's skiing course. Switzerland is training eight Chinese ski instructors and placing them in St. Moritz, Davos, Zermatt, Gstaad and other resorts to teach Chinese tourists, in their own language and with Chinese savoir faire.Denis Balibouse / Reuters