'Comfort women' protest Abe visit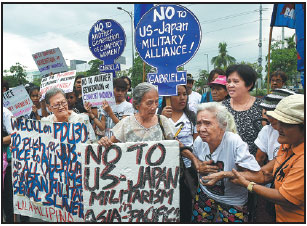 Protester Remedios Dayalino (second right) is joined by fellow "comfort women" at a demonstration in front of the Japanese embassy in Manila.Ted Aljibe / Agence Francepresse
Filipino "comfort women" staged a protest on Thursday in front of the Japanese Embassy in Manila ahead of the visit by Japanese Prime Minister Shinzo Abe.
The protesters urged Philippine President Rodrigo Duterte to raise their plight in his meeting with Abe, who will visit Manila and Davao, Duterte's home city.
Duterte, who visited Japan in October last year, will welcome Abe at the Malacanang presidential palace, where a state banquet is planned, Duterte's office said.
"We call on Duterte not to forget to bring up with Abe the still unaddressed demands by our fast aging and diminishing lolas (grandmothers) for a formal apology from the (Japanese) government to all Asian comfort women and restitution for the hurt they inflicted on thousands of women," said Rechilda Extremadura, executive director of Lila Pilipina, an organization that supports World War II comfort women.
"Our lolas also want Duterte to resist renewing the possibilities of letting new Japanese troops conduct exercises, train local security forces and make bases in our country to avoid another brutal campaign of war and pillage."
She also criticized previous Philippine administrations, accusing them of ignoring the plight of the Filipino women who were forced to work in Japanese military brothels as sex slaves during World War II.
Gabriela, a women's organization, also warned Duterte not to ditch the "comfort women" issue in favor of economic aid.
"Duterte should not take the so-called aid and loans as cosmetic beams to paper over the cries of comfort women for genuine justice and recognition," said Joms Salvador, secretary-general of Gabriela.
Like Bayan and Lila Pilipina, Gabriela also raised alarm over Japan's plan "to return to its aggressive wartime stance".
Dwindling number
Lila Pilipina (League of Filipino Women) has documented 174 "comfort women" who have gone public since the early 1990s. Only 70 of them remain alive, including Bustamante.
Another group, the Malaya Lolas (Free Grandmothers), has documented 90 but the number has since dwindled to 33.
Both groups are demanding official apology, just compensation, and inclusion of the comfort women issue in Japan's historical accounts and textbooks.
The Philippine government has so far avoided discussion of the issue in bilateral talks with Japan.