Domestic buyers a key real estate driver
Purchasers are favoring premier office buildings that bring stable and steady income, as government policies tighten
In real estate across the country, domestic buyers are expected to dominate big investment deals worth 100 million yuan ($14.4 million; 13.8 million euros; 11.7 million) or more each in the New Year, an industry report says.
That is because buyer interest in office buildings, serviced apartments and commercial complexes is rising, according to a research report by DTZ/Cushman & Wakefield, a realty services provider.
The report says the realty investment market in China has been "particularly active" in 2016 and may continue to thrive in 2017.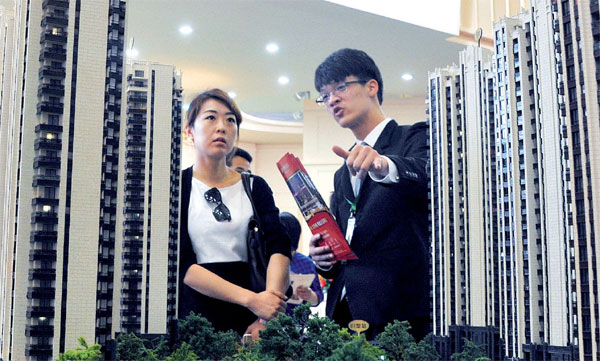 A potential buyer seeks information about property projects at a real estate expo in Shanghai. Yang Yi / For China Daily
Nationwide, bloc deals were worth some 200 billion yuan this year.
In Shanghai alone, bloc deals exceeded 130 billion yuan, more than double that in 2015, according to DTZ.
In terms of transaction value in Shanghai, office building deals accounted for more than 75 percent of all transactions. In terms of transacted space, they accounted for more than 70 percent.
"An obvious trend is that domestic buyers are dominating the market, and the average transaction value of deals is rising. Domestic buyers are favoring premier office buildings that bring stable and steady income. Investors are looking for quality assets, and the real estate market provides good opportunities," says Jim Yip, managing director of Investment and Advisory Services, China, DTZ/Cushman & Wakefield.
As residential property policies have been tightened earlier this month, investors are looking at commercial realty. The easier interest rate environment has also encouraged buyers to look at bigger deals, analysts say.
Insurer-linked funds, which have been widely reported to have acquired overseas assets in previous years, are also allocating huge amounts to domestic assets like office buildings, commercial complexes and shopping malls.
Post transaction, buildings may be refurbished or transformed for other purposes, based on current trends. For example, old hotels in central locations are turned into office buildings, the DTZ report says.
Office buildings in Wuhan, Shenzhen and Chengdu are in great demand as they play a key role in driving regional growth, the report says.
Serviced apartments are also expected to become a key real estate category and an investor target in the next few years, particularly in first- and second-tier cities, given the rise in transaction value.
For instance, Shanghai's serviced apartments generated 7.15 billion yuan in 2016 sales, up from 4.2 billion yuan in 2015.
wuyiyao@chinadaily.com.cn