Bulls bad medicine for LeBron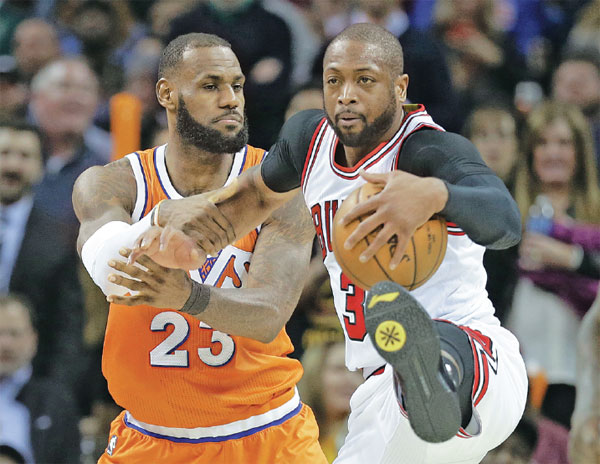 Cleveland Cavaliers' LeBron James puts the grab on Chicago Bulls' Dwyane Wade in the second half of Wednesday's NBA clash in Cleveland. The Bulls won 10694. Tony Dejak / Ap
LeBron James was reminded what it's like to be Cleveland's only star.
Lonesome and no fun.
Jimmy Butler took over in the fourth quarter on Wednesday, scoring 10 straight points during a critical stretch to lead the Chicago Bulls to a 106-94 win over the Cavaliers, who had a less-than-100 percent James and were without Kyrie Irving and Kevin Love.
Butler, who was coming off a 52-point game against Charlotte, scored 14 of his 20 points in the fourth as the Bulls held off Cleveland's rally and ended the Cavs' 13-game winning streak with James in the lineup.
Butler said Dwyane Wade, who returned to his hometown this summer, encouraged his new teammate to take control.
"The guy who wears No 3 on this team came to me and was like, 'Win the game,'" Butler said. "So I guess a switch cut on. I knew I was going to have to do that in the fourth anyway, but with him telling me that, you can't let D-Wade down.
"He's been doing it for years. It was my time to step up."
James, who has had a head cold for several days, was questionable until about 20 minutes before the game, when the Cavs announced he would be the only member of Cleveland's 'big three' in uniform.
He finished with 31 points, eight rebounds and seven assists in 37 minutes.
James was forced to go it alone as Irving missed his third straight game with a hamstring issue that appears to be more serious than first diagnosed and Love is still recovering from a nasty case of food poisoning.
James said there was never any question he would play.
"If I can walk, I can go, unless coach tells me to sit down," said the captain.
"My plan was to play."
But without Irving and Love, the Cavs didn't have enough firepower to slow the Bulls, who got 17 points from Doug McDermott and made a season-high 13 3-pointers.
The Bulls made just one of eight 3s in the first quarter before finding their range. They dropped 11 of their next 14 and built a 15-point lead when James went to the bench with 3:30 left in the third quarter.
But Cleveland's reserves cut Chicago's lead to four when James returned with 8:49 remaining. He made two straight layups to pull the Cavs within 89-88 and was driving for the go-ahead bucket when Butler stepped in front of him in the lane and drew a charge.
"He's coming at you full speed, that's the right play to make," Butler said.
"It could go either way, obviously. You've got to brace yourself. I got all my pads here somewhere. We've got all of that for a reason."
James didn't argue about the foul.
"It was a good call," he said.
Butler then hit a 3-pointer on the next possession, and Cleveland never got closer than eight as its home winning streak ended at nine.
On the road
The Cavs are set to embark on a six-game road trip. James was asked if it's coming at a good time with the injury and illnesses.
"I don't know until we know who's active," he said.
"I don't know if it's going to be a good time or not until we know who's active and who's playing. See what happens."
Wade scored 10 points in 27 minutes after missing Monday's game with a swollen left knee. He said it feels better but the team will monitor him closely.
"This is a grueling month," Wade said.
"We have four back-to-backs. We want to play it smart, find gaps, find days to get through it."