Japan's 'Tuna King' continues reign with $636,000 bluefin win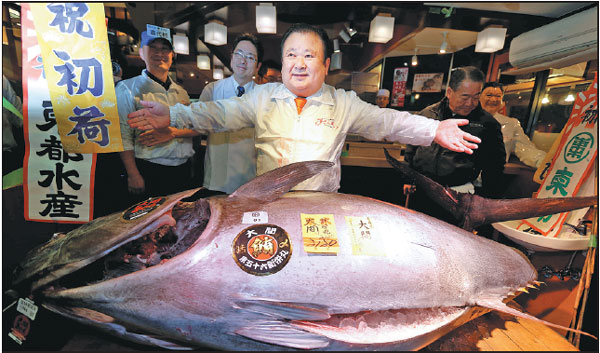 Kiyomura President Kiyoshi Kimura, who runs the Sushi Zanmai restaurant chain, poses with the 212-kilogram bluefin tuna at the Tsukiji fish market in Tokyo, Japan, on Thursday.Issei Kato / Reuters
Japan's self-styled "Tuna King" has done it again - paying more than $600,000 for a single fish.
Sushi entrepreneur Kiyoshi Kimura paid top price at the first auction of the new year at Tokyo's Tsukiji fish market on Thursday, bagging a prized bluefin tuna for 74.2 million yen ($636,000).
The head of the Sushi Zanmai chain is now the proud - if temporary - owner of a 212-kilogram fish.
At that price a single piece of fatty tuna sushi would cost roughly $85, or 25 times the $3.40 that Kimura charges for the product at his 51 stores across Japan.
"I feel it was a bit expensive, but I am happy that I was able to successfully win at auction a tuna of good shape and size," Kimura said.
Later in the day, Kimura and his fellow sushi chefs sliced up the giant fish with special knives at his main restaurant near the market, as hundreds of sushi lovers waited for a taste or two.
"As always, I want to buy the best one so that our customers can have it. That's all," Kimura said when asked about the auction result.
He has built his successful chain into a national brand by paying big money at Tsukiji's first auction every year - he has now won for six straight years - essentially using the event for publicity.
He paid a record $1.8 million for a bluefin - a threatened species - at the New Year auction in 2013, outbidding a rival bidder from Hong Kong.
Last year, he faced no formidable rival and paid a bargain $117,000 for a 200 kg tuna.
The prices may seem enormous, but Kimura makes sure to get the most out of his money.
Every year, the boisterous auction, which takes place in the early hours, makes national headlines.
Decades of overfishing have seen global tuna stocks crash, leading some Western nations to call for a ban on catching endangered Atlantic bluefin tuna.
Japan consumes a large portion of the global bluefin catch, a highly prized sushi ingredient known in Japan as kuro maguro (black tuna) and dubbed by sushi connoisseurs as the "black diamond" because of its scarcity.
The 2017 auction could be the last at Tsukiji, the world's largest fish market.
It was originally supposed to move to a new location in November, but the plan was put on hold until at least late this year over concerns about contamination at the new site.
Tokyo governor Yuriko Koike said in November that the move could even be delayed until the "spring of 2018" depending on results of health and environmental tests.
But she also held out the possibility of scrapping the relocation altogether.