Hollande says coalition battle in Iraq prevents terrorism at home
Supporting military operations against the Islamic State group is key to preventing terror attacks at home, French President Francois Hollande said on Monday during his one-day visit to Iraq.
Hollande had already visited in 2014 and remains the most prominent head of state to come to Iraq since the launch two and half years ago of a US-led coalition against the extremists.
"Taking action against terrorism here in Iraq is also preventing acts of terrorism on our own soil," he said at a base of Iraq's elite Counter-Terrorism Service near Baghdad.
France is the second contributor to the US-led coalition that has carried out thousands of airstrikes against IS in Iraq and Syria and provided military equipment, training and advice to Iraqi forces.
Iraqi forces completely collapsed when IS extremists took over second city Mosul in June 2014 and swept across much of the country's Sunni Arab heartland.
Since it joined the United States in the coalition in September 2014, French aircraft have conducted 5,700 sorties, around 1,000 strikes and destroyed more than 1,700 targets, according to Defense Ministry figures.
France has 14 Rafale fighter jets that are stationed in Jordan and the United Arab Emirates and taking part in coalition operations.
It also has 500 soldiers training and advising elite Iraqi forces and Caesar artillery vehicles stationed south of Mosul to provide support for ongoing operations to retake the city.
Australia, Italy and the United Kingdom are also part of the 60-member coalition supporting Iraq's efforts against IS.
But on Monday, an IS car bomb killed 24 people in a square in Baghdad's Sadr City district, and the militants cut a key road north from the capital to Mosul, their last major stronghold in the country.
Reconciliation
French nationals are also among the largest contingents of foreign fighters in IS and security agencies now fear the disintegration of the "caliphate" in Iraq and Syria will result in an influx of returning extremists bent on carrying out terror attacks in their home countries.
Hollande was also expected to voice support for reconciliation and unity in Iraq, where observers fear an end to major operations against IS could see old internal divisions resurface.
"He will stress the importance of continuing efforts to ensure sustainable security in the country after IS has been defeated and the coexistence of communities in a united and sovereign Iraq," a source in the French presidency said.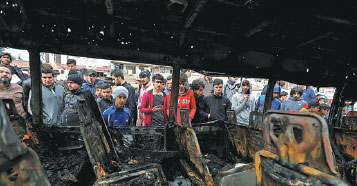 People look at a burned vehicle at the site of a car bomb attack in Baghdad on Monday. Ahmed Saad / Reuters