Harden, Westbrook, LeBron turn it on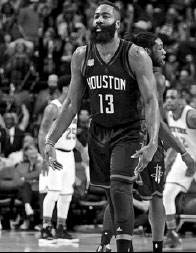 Houston Rockets guard James Harden in action against the New York Knicks on Saturday.Harden scored 53 points to help the Rockets win 129122.  Usa Today Sports
Houston's James Harden scored a career-high 53 points, Oklahoma City's Russell West-brook had a first-half triple double and LeBron James sparked Cleveland as the superstar trio lit up the NBA on Saturday.
Westbrook, the NBA's top scorer with 31.3 points a game, reached double figures in 19 minutes and finished with 17 points, 14 assists and 12 rebounds in the Thunder's 114-88 home victory over the Los Angeles Clippers.
Harden, Westbrook's former Thunder teammate, had a triple double of his own with 17 assists - matching his career best - and 16 rebounds in powering the host Rockets over the New York Knicks 129-122.
Four-time NBA MVP James scored 32 points, 17 in the first quarter, and had nine assists while Kevin Love added 28 points and 10 rebounds to spark defending champions the Cavaliers over the Charlotte Hornets 121-109.
Westbrook, the only NBA player since 1997 to manage a first-half triple double, scored 11 points, grabbed 10 rebounds and had 12 assists to help Oklahoma City to a 69-40 half-time advantage.
But Westbrook's 16th triple double of the season fell short of being the NBA's fastest, achieved in 17 minutes by Syracuse's Jim Tucker in 1955.
At Charlotte, Jordan McRae scored 20 points in his second career start to ease the load on James with Cleveland missing guard Kyrie Irving due to a tight right hamstring and reserve forward Mike Dunleavy with an ankle injury.
Kemba Walker led Charlotte with 37 points.
At Houston, Brandon Jennings led the Knicks with 32 points while Knicks star Carmelo Anthony scored only seven points before leaving the game with a sore left knee.
Greek star Giannis Antetokounmpo scored 35 points, Jabari Parker added 27 and Malcolm Brogdon contributed 15 points, 12 assists and 11 rebounds for the Milwaukee Bucks in their 116-96 victory at Chicago. Jimmy Butler scored 26 points in the Bulls' losing cause.
Frenchman Rudy Gobert had 18 points and 13 rebounds while Gordon Hayward added 18 points as the Utah Jazz beat the Phoenix Suns 91-86.
Mike Conley had 22-point haul in his return after missing two games with a toe injury to inspire the Memphis Grizzlies, who ripped the Sacramento Kings 112-98, despite losing Spanish center Marc Gasol with an ankle sprain in the third quarter.
The Grizzlies netted a club-record 17 3-pointers, 11 of them in the third, to improve to 22-14. They made six straight 3-pointers and 7-of-8 over a 4:30 span for a 22-point lead.
"When we're shooting like we were today, we're a very tough team," Conley said. "The ball was shared so much that guys got a lot of open looks."