Smog in the air, but green is on the horizon
Progress is being made to ensure that environmental safeguards work, but mechanisms still need refining
In one respect the year has ended much as it began in Beijing, with more of those foggy, smoggy days in which levels of PM2.5 density are much higher than they should be, forcing people to wear masks, and factories, schools and factories to be closed and flights to be cancelled.
Yet Beijingers have more or less got used to this suffocating scenario. Shortly after the winter heating has been fired up in northern China in recent years, almost as if on cue smog has hit the Beijing-Tianjin-Hebei area, one of China's most urbanized regions with a population of more than 100 million.
The government is well aware of the severity of the pollution. In 2013 the State Council set out measures in what was called Air Pollution Prevention and Control Action Plan. Three years have passed, and the plan has had some positive effects, but there is still more work to do.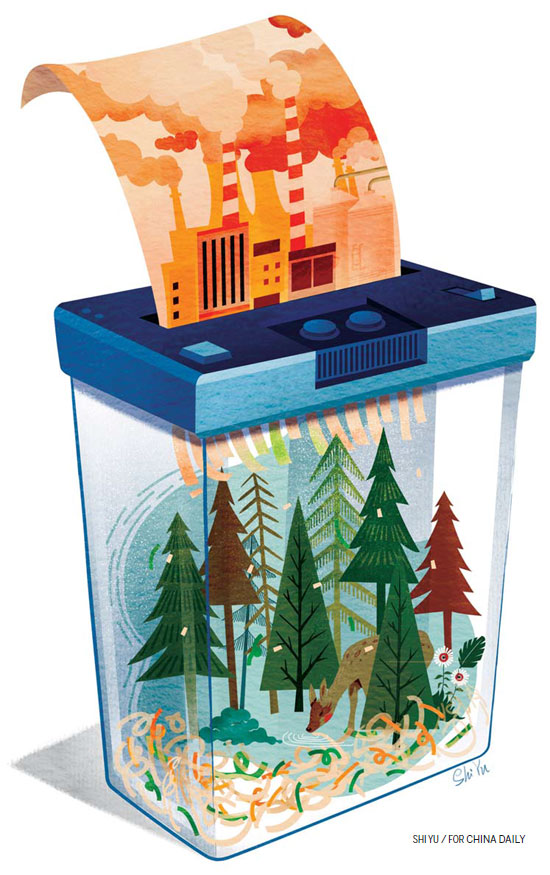 In the Fifth Plenum of the 18th Communist Party of China Central Committee last year, five core concepts for economic development were put forward and emphasized. Innovative, coordinated, green, open and shared development must be implemented to tackle the problems hindering the country so that the development target of the 13th Five-Year Plan period (2016-20) can be achieved.
Green development implies that we must stick to the concept of an environmentally friendly, low-carbon and circular economy and persistently follow the course of sustainable development.
President Xi Jinping has repeatedly said that to keep the environment green and clean is as valuable as creating wealth, and protecting our environment is tantamount to increasing productivity. Over the past year both the central government and local governments have achieved significant successes in implementing the green development concept.
In the past, despite targets related to environmental protection and green development, the absence of policy constraints and a pertinent evaluation system has offset the efficiency in realizing these targets. The blind pursuit of high economic growth at the expense of the environment still exists and the environment has in fact deteriorated in some parts of China.
But in recent years the central government and provincial governments made gains in implementing green development. Such development is now regarded as a strict constraint when policies are made and executed. Government and business have also been moved to comply with the idea of green development with new incentives.
The first achievement is a closer connection of the green development concept with policy-making in development priority zones. The outline of the 13th Five-Year Plan further defined the scope of development priority zones, and it is expected that the central government will increase financial transfer payments toward key ecological functional areas soon. And obviously this will benefit the restoration of ecologically fragile areas and strengthen ecological curbs in development zones.
The second achievement is reflected in a closer combination of the green development concept with industrial policies regarding cutting excess capacity. As one of the five major tasks to promote structural reform from the supply side, new policies have been introduced to cut excess production in the steel and coal industries. In defining the policy it has been made clear that all manufacturing facilities that damage the environment or pose a threat to safe production should be eliminated without hesitation. This policy sets green development as a precondition of industrial development. This in effect forces companies to give green development higher strategic significance.
The closer connection between the systems under which officials are evaluated and green development is another good example. This year the reporting mechanism of provincial environmental protection departments has been transformed from territorial management to vertical management. Thus the Ministry of Environmental Protection now directly oversees provincial environmental protection department. The appointment of local environmental officials has also centralized, eliminating potential interference from local government in the enforcement of environmental protection laws. And a balance sheet of natural resources assets is being developed. All these measures will further enlarge the responsibility of the local authority in protecting natural resources, and these policy innovations will lay a solid foundation for protecting the environment.
To fully implement green development in the 13th Five-Year Plan period, we must change the way we think about developing urban economies and gradually improve our planning. When I am invited to work on urban and industrial development plans in many cities, I stress that development must not be absolutely paramount, an idea that on the face of it seems to run counter to advocacy of industrial development. In fact, what it means is that we must reserve space and land in the process of urban and industrial development under the new economic norms, to grow the economy not only in scale, but also in quality.
On the other hand, we must make a greater effort to formulate and implement policies with reference to our experience. I would earnestly hope that the green development concept will be regarded as a constraint in more regional policies as well as industrial policies. Given adequate policies with market-oriented incentives, people's sentiment about environmental protection will change quickly. For such policies to be effective, we should promote them in more areas and apply them to more industries after they have been improved.
Eventually, we must gradually develop a series of institutions and mechanisms regarding green development that are appropriate for China and that promote its sustainable economic growth.
We should better manage the incremental growth based on the current economic scale. China's economy is still growing at a considerable pace, with the target set at 6.5 percent average during the 13th Five-Year Plan period.
We must prevent pollution and damage to the environment in pursing the incremental growth of the economy while encouraging the growth of green manufacturing, a low-carbon economy and environmentally friendly industries. We must also accelerate our progress in environmental governance, environmental detection and energy conservation.
I firmly believe that in the 13th Five-Year Plan period, with regards to green development many more achievements lie ahead.
The author is a Beijing-based senior partner of Roland Berger Strategy Consultants. The views do not necessarily reflect those of China Daily.