Measures ease path for FDI
Foreign enterprises can now hold IPOs on mainland stock market
China will support foreign companies in launching initial public offerings on its stock markets, issuing bonds and broadening their financing channels to create a high-level marketplace in which the country can find new growth momentum, an official from the nation's top economic planner said on Friday.
"The access of foreign investment in financial service industries, including banking, securities, insurance and futures trading will be further relaxed," said Ning Jizhe, vice-minister of the National Development and Reform Commission. Ning was referring to a document approved by the State Council on Wednesday that aims to make processes for foreign direct investment more direct, open and efficient.
Foreign capital's market access will be raised in other service businesses - such as accounting, architectural design and rating services. "Sensitive industries" such as telecommunication, internet and education will also gradually be opened up. Ning said local governments will not be permitted to make arbitrary decisions that limit foreign investment in their areas.
The document specifically emphasizes that foreign companies will be subject to the same review procedures as domestic companies in applying for business licenses. Their products manufactured in China will be treated fairly during government procurement processes.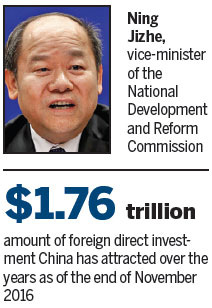 The document aims to bring more foreign investment, technologies, practical management methods and human resources to national development strategies, including the "Made in China 2025" strategy, western development program, the Yangtze River Economic Belt and the 13th Five-Year Plan (2016-20) for Revitalizing Northeast China.
Over the years, China has attracted $1.76 trillion in foreign direct investment up until the end of November 2016, with the United States, European Union, Japan and South Korea remaining the main sources of FDI.
Tang Wenhong, director-general of the Commerce Ministry's Foreign Investment Administration Department, said the government will cancel the minimum registered capital requirement for foreign investment and foreign companies will be subject to the same registered capital system as domestic companies.
"Central government branches also need to conduct fair competition reviews when they make policies regarding foreign direct investment," Tang said. "Global companies' intellectual property rights will be strictly protected."
The central government also approved a guideline on Wednesday to remove access hurdles in a number of manufacturing sectors including motorbikes, rail transportation and ethanol fuels. Foreign capital will have access to water conservancy, energy and environmental protection and utilities via franchise agreements.
"In a move to enhance the country's ability to develop, foreign investment has been encouraged to enter high-end manufacturing industries, as well as services related to manufacturing, such as modern logistics and industrial design," said Li Gang, vice-president of the Chinese Academy of International Trade and Economic Cooperation in Beijing.
zhongnan@chinadaily.com.cn