Sager dressed up NBA's image
Lukemia claims TV legend who spent decades chatting with all-time greats
Dapper US television sportscaster Craig Sager, who donned flamboyant outfits as he interviewed coaches and players during decades as an NBA sideline reporter and resolutely worked even during treatment for leukemia, has died at age 65, Turner Sports said on Thursday.
Sager covered an array of sporting events, including the Olympics, but was most closely associated with NBA broadcasts.
While working for Turner Sports, he conducted sideline interviews for a quarter of a century with such NBA stars as LeBron James, Kobe Bryant, Kevin Durant and Stephen Curry and coaches like Gregg Popovich - always clad in his trademark colorful jackets and ties.
Sager was diagnosed in 2014 with acute myeloid leukemia, a cancer of the blood and bone marrow, and had bone marrow transplants and chemotherapy.
The treatment forced him to miss the 2014-15 NBA season, but he returned to work after getting a bone marrow transplant from his son.
Sager disclosed in March his cancer had returned, and doctors told him he had just months to live.
He continued to work through the NBA playoffs, including the Finals between the eventual champion Cleveland Cavaliers and the Golden State Warriors in June, while undergoing chemotherapy treatments.
"If I didn't do this, I'd just be sitting in some hospital bed somewhere, hooked up to some IVs, slowly withering away," Sager told GQ magazine in May.
"This keeps me going. This keeps me energized. It gives me hope."
NBA commissioner Adam Silver called Sager "as vital to our league as the players and coaches" and "a true original."
"Craig earned widespread respect for his insightful reporting and inspired so many most recently with his courage," Silver said in a statement.
Turner Sports president David Levy said that while Sager would be remembered for his wardrobe and interviews, "it's the determination, grace and will to live he displayed during his battle with cancer that will be his lasting impact."
Sager's suits, jackets and ties were a sea of canary yellow, fire-engine red, aqua, lilac, purple, royal blue, checks, plaids, paisleys, stripes, flower prints and indescribable patterns - sometimes off the rack and sometimes custom made.
"I like lots of color," he told GQ. "And when I lay it out on my bed before I pack and go, it looks good. Now, when it gets on TV, sometimes it doesn't match as well as I thought it did in my bedroom."
Sager also covered Major League Baseball, the National Football League, World Cup soccer, college basketball, Wimbledon tennis, the Kentucky Derby and auto racing.
"Whenever Craig Sager is covering your game, you know it's a big one," Cavs captain James told Sports Illustrated in April.
Reigning NBA MVP Stephen Curry of the Golden State Warriors said Sager "brought out the best in everyone he met."
Sager was remembered fondly on Thursday by current and retired athletes, media colleagues and even US political leaders.
Vice-president Joe Biden called him "fearless and hopeful, a real hero."
Sager interviewed Hank Aaron on the field after the baseball slugger's record-setting 715th home run in 1974, and he slept in a stall next to Seattle Slew the night before the horse won thoroughbred racing's Triple Crown in 1977.
He also talked eccentric NBA star Dennis Rodman out of committing suicide in 1993.
Rodman wrote on Twitter on Thursday: "Craig Sager - thanks for saving my life when I was in dire need of help in Detroit back in 1993."
Sager had five children from two marriages. His wife, Stacy, was a member of the Chicago Bulls dance squad.
What they say
"Thank you for being you! Brought the best out of everyone you met. #sagerstrong"
Stephen Curry, Golden State Warriors star and two-time MVP
"Long Live Craig. We love you! Rest in Paradise."
Kevin Durant, Warriors star
"Words can't explain how honored, humbled, and excited I was to be interviewed by a legend like you. The sports world will never be the same without you."
Karl-Anthony Towns, Timberwolves star
"Craig was as vital to our league as the players and coaches. A true original and an essential voice on Turner Sports' NBA coverage for 26 seasons."
Adam Silver, NBA commissioner
"Craig Sager - thanks for saving my life when I was in dire need of help in Detroit back in 1993."
Dennis Rodman, former Detroit Pistons star
"The NBA family lost a legend who changed the way sideline reporters did their job. RIP Craig Sager."
Magic Johnson, NBA legend
"Craig brought so much enthusiasm to the NBA, but his fight to the end is what really impressed me. RIP to an inspiring man."
Scottie Pippen, former Bulls great
"He was as identifiable with the NBA as any player or coach. The league will not be the same without him."
Larry Bird, Basketball Hall of Famer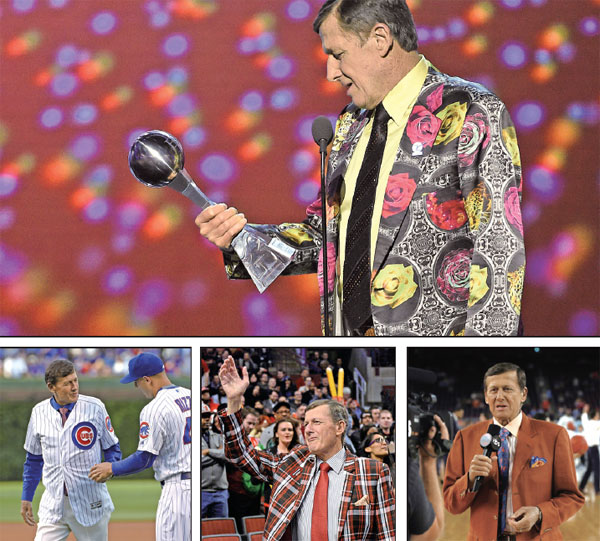 From top, clockwise: Craig Sager accepts the Jimmy V award for perseverance at the ESPY Awards at Microsoft Theater in Los Angeles on July 13. Sager speaks before the NCAA Final Four college basketball championship game between Villanova and North Carolina in Houston on April 4. Sager acknowledges the crowd during a timeout in a game between the Chicago Bulls and the Oklahoma City Thunder in Chicago last season. Sager is handed the ball by Chicago Cubs first baseman Anthony Rizzo after throwing out the ceremonial first pitch before a game between the Chicago Cubs and the Los Angeles Dodgers at Wrigley Field in Chicago on June 1.  Ap / Usa Today