Dark side of the biz-tech marriage shadows consumers
Last week, the usually perky young woman staffer at a cafe that I frequent looked crestfallen. Four of the 100-yuan notes she withdrew from an ATM turned out to be fakes.
I've heard of several such incidents not just in China but even in my home country India.
More than 2 billion citizens of the two nations face a dire risk of picking up counterfeit notes in their everyday transactions as business and technology feed off each other. It's mostly middle-class consumers or relatively low-wage earners who bear the brunt.
In February, in the world's biggest cyber heist, $81 billion was stolen from the Bangladesh central bank's account at the Federal Reserve Bank of New York. In late October, Indian banks revealed a high-tech fraud that compromised more than 3 million debit cards. On Nov 8, India withdrew overnight the legal tender characteristic of more than 85 percent of cash in circulation citing, among other things, the presence of "high-quality counterfeit notes" in the currency system.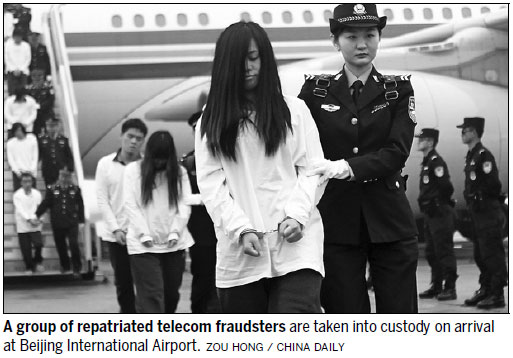 Technology, it seems, isn't just the preserve of investors, researchers, big companies and governments. Even fraudsters appear to be tech-savvy.
Be it the scandalous P2P financing companies, stolen passwords and IDs, hacked smartphones and computers, or high-quality fake notes, a tech-enabled business or service always seems to spawn a fraud, sooner than later.
A video on social media shows how easy it is to scan a QR code and steal money from someone else's digital wallet. An investigative journalist in Guangdong province recently exposed how he could buy a colleague's personal information from an online merchant for 700 yuan.
In Pengshui county of Chongqing municipality, Cen Qiong lost her smartphone, which was later picked up by a sanitation worker, whose son used it to transfer 10,000 yuan ($1,450) from Cen's bank account to her Alipay account.
And yet, people are exhorted to embrace technology by e-commerce companies, banks, the travel industry, mobile payment firms, so on, as if cashless transactions, e-commerce and digital banking are fool-proof and the panacea for ills like corruption and inefficiency.
For consumers, the business-technology marriage spells another trouble. Customer the King is long dead, long live the fraud-vulnerable, impersonal technology.
Compared to even three decades back, the number of consumers that each mid-, big- and mega-sized company serves is unbelievably monstrous now. The company-customers ratio has become even more skewed in the e-commerce age.
Monday's 12-12 online shopping festival has shown how quickly manufacturers, service providers and traders are riding technology to reach vast numbers of consumers worldwide.
Consequently, customer service has become a sham - automated, impersonal, time-consuming, ineffective. When you buy online, your focus is on the deep discount on a seemingly superb product, and quick, safe delivery. Saves time and money - and since time is money, savings are higher. Logic.
But, next thing, you are holding a substandard, practically useless product. You contact online customer service. Easy. Technology at fingertips.
"The cutting tool isn't sharp but blunt," you key in.
He/she/it retorts, "You sharpen the tool and use it."
Annoyed, you demand, "I want a refund."
He/she/it retorts again, "Send the product back first."
If the amount involved is less than 50 yuan, would you really bother with the complicated, long-drawn process of returning the defective product? If you had so much time, wouldn't you go to a physical store, check the product and then buy?
But, unscrupulous online sellers, and counterfeiters peddling low-priced junk to thousands of unsuspecting consumers, would thank technology and laugh all the way to the bank.
Technology isn't always a blessing - e-commerce is proof.
You order a low-fat German milk carton pack online. Instead of the next-day delivery, you receive a call two days later. Out of stock, apply for refund, you're told. You enrich your morning cuppa with back-up sachets of powdered milk.
After a few days, you place a fresh order. Again, no delivery. No call, and no back-up sachets, either. You make do with black coffee. You also discover sellers have jacked up the price of the imported milk brand's "1-liter x12 cartons" pack.
Cloud-based computing makes algorithm-powered big data analytics easy. So, if you buy a brand online frequently, its price will likely rise. Blame the business-technology nexus, not inflation or shortages.
Contact the writer at siva@chinadaily.com.cn