Confucius Institutes toss Africa a lifeline
Confucius Institutes supply practical help to give countries the potential to prosper
The establishment of Confucius Institutes in Africa has strengthened personal ties between the continent and China.
In Kenya, however, this partnership has now gone a step further, toward supporting the country's diversification, particularly in the agricultural export sector, which is the cornerstone of its hopes for economic growth.
Moreover, it promises to boost the country's food reserves.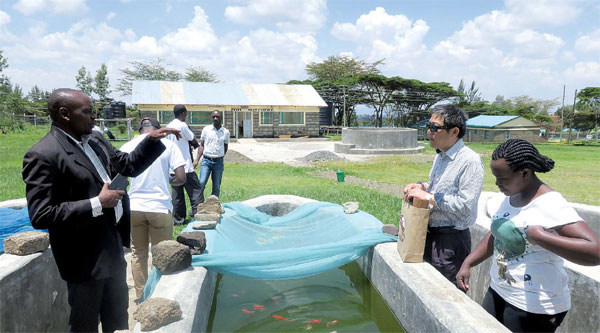 Paul Kimurto (left), director of Science-Agro Park, and Confucius Institute Director Li Yuan (second from right) discuss the progress of the aquaculture project on ornamental fish. Photos by Lucie Morangi / China Daily
With a population of more than 40 million, weak global growth and the consequences of climate change, Kenya has been keen on jump-starting struggling but lucrative subsectors such as sugar and fish production, while propping up research and innovation. These issues have, however, have been kept on a back burner, impacting on the country's balance of trade, with imports increasing to meet its needs.
All that is about to change, thanks to a project supported by Nanjing Agricultural University. Through the Confucius Institute based at Kenya's Egerton University, the collaboration has set in motion three projects; aquaculture, stevia farming and the funding of a state-of-the-art microbiology laboratory to help boost agricultural production.
"This has put Kenya on the map for agricultural research, promising to unlock the continent's potential as the world's breadbasket," says Alexander Kahi, deputy vice-chancellor and dean of academic affairs at the university. He believes the collaboration has developed into a world-class partnership of international value.
Fish farming
Kenya is keen on emulating China's success in aquaculture. The Asian giant remains the biggest producer of farmed seafood in the world, accounting for 70 percent of total production and 55 percent of the total value of farmed seafood exports.
According to the Kenyan government, stocks of wild fish declined from 200,153 metric tons in 1999 to 163,293 tons in 2013. That caused prices to rise steadily until fish has become unaffordable in many households. The retail price can be as high as $3 for a 300-gram fish.
Consequently, the majority of Kenyan households no longer have fish in their diets. The average annual consumption of fish per person in the country is seven kilograms, according to the government, compared with the global average of 18.4 kg, according to the United Nations Food and Agriculture Organization.
In 2003 China consumed about 25.8 kg per capita, with fish representing 18.9 percent of animal protein consumed and 7.4 percent of total protein.
"Kenya can learn a lot from China. Over the years the country has invested heavily in research and supply chains to make this sector prosperous," says Paul Kimurto, director of the Science Agro-park.
Started about a year ago, the program in Kenya has built a modern hatchery to produce up to 10,000 fingerlings - small fish - per week for farmers. It also wants to restock lakes and dams, produce fish for commercial purposes, research, teaching and training and look into opportunities for adding value.
"Kenya imports fish from China at less than a dollar for one that weighs 300 grams. A local one of the same weight is sold at $3 dollars. We need to know how they are keeping their production costs low so that this protein-rich food can be widely accessible to Kenyans," Kimurto says.
Sugar production
Another area of cooperation is in the production of stevia, a sugar-laden leaf whose global demand is on the rise because it's useful in the safe management of diabetes.
Successful production would also help the country plug its huge sugar deficit. The country consumes 889,000 tons but produces only 500,000 tons.
This is why Liu Gaoqiong, a Chinese professor based at the institution, believes stevia is Kenya's solution. The horticulture lecturer has carried out 10 trials since launching the project in April this year and is optimistic that the East African country will emulate China's success. Growing low-calorie stevia has resulted in high earnings for farmers in China, the biggest global producer. One acre of dry leaves yields 600 kilograms which can be sold for 1 dollar per kilo.
The plant was initially introduced by British colonialists, alongside tea farming. But little attention was paid to increasing production, leading to poor uptake. However, with increasing concern over lifestyle, and health issues such as diabetes and obesity, demand for the natural sweetener has grown and Professor Liu believes it can do well in Kenya.
"This project could help Kenya fulfill its ambitions, but the success of the trials and the uptake of farmers will determine whether value-adding factories are established," Liu says.
Richer research
"We will continue to support the development of the Confucius Institute, including applying for more agricultural projects and selecting excellent teachers and managers to work there to ensure sound and sustainable development," said Wang Chunchun, vice-president of Nanjing University, as he unveiled $1 million-worth of state-of-the-art lab equipment in October.
The molecular lab promises to provide groundbreaking agricultural research that will boost genetic engineering to create disease-resistant crops.
Moses Rugutt, director general of the National Commission for Science, Technology and Innovation in Kenya, says the lab will play a significant role in relieving regional food insecurity.
"Similar research has seen China, with a population of 1.4 billion, increase its food production," Rugutt says. "Innovation will help improve people's lives, alleviate poverty and build resilience to the vagaries of climate change."
Richard Mulwa, Egerton University's director of crop management research training, says the new equipment will strengthen the institution's ability to support advanced research such as tissue culture work and other molecular biology studies.
Groundbreaking research is predicted. Already, the university has successfully undertaken studies into tropical leguminous plants such as beans, chickpeas and groundnuts that are high-yielding and drought resistant.
The research equipment, which was delivered early this year, was assembled by Chinese engineers.
Most of the lecturers in his department - about 9 - have undertaken PhD studies in China, thus boosting their credibility.
lucymorangi@chinadaily.com.cn