Meitu HK IPO eyes $644 million
Meitu, the maker of popular apps to edit selfies, announced on Friday details of its proposed listing in Hong Kong. It is seeking to net about HK$ 5 billion ($644 million) from an offer of 574 million shares at a price ranging between HK$ 8.5 and HK$ 9.6 per share.
Although lower than the $710 million expected earlier, the initial public offering is likely to the city's largest in nine years.
Based on the prospectus, 90 percent of the total global offering will be offered under the international placing to cornerstone investors Kingkey Enterprise and Ports International, and the remaining 10 percent will be offered under the Hong Kong public offering, which will open from Dec 5 to 8. Shares will be traded in board lots of 500 shares each with an entrance fee of HK$ 4,848.37.
Cliff Zhao Wenli, chief strategist and deputy head of equity research department of China Merchants Securities (HK) Co Ltd, said the successful listing of Meitu will bring change and liquidity to the existing structure of the Hong Kong equity market, which currently is dominated by transitional sectors. Numerous unicorns in the Chinese mainland could seek opportunities to list in Hong Kong, afterwards.
The problem at this stage, according to Zhao, is that most of the unicorns are still at a phase of expanding users. So, different valuation methods lead to a divergence of investors' views toward this type of company. And, the future development of startups usually depends on the quality of the company's founders.
Kenny Wen, wealth management strategist at Sun Hung Kai Financial, pointed out that investors may fancy Meitu stock due to familiarity and an appetite for the internet sector, but should be aware of possible fluctuations in the stock price at the beginning because the current business model is unclear.
Meitu is saving on costs and most of the company's deficits are primarily due to an accumulated fair value loss of the preferred shares of 5.1 billion yuan ($739 million) as of June 30, 2016, excluding the impact of which and share-based payments of 75.4 million yuan, its accumulated loss would have been 1.1 billion yuan.
The company expects to turn from deficits to profits at the end of 2017, according to Gary Ngan King Leung, chief financial officer at Meitu.
tingduan@chinadailyhk.com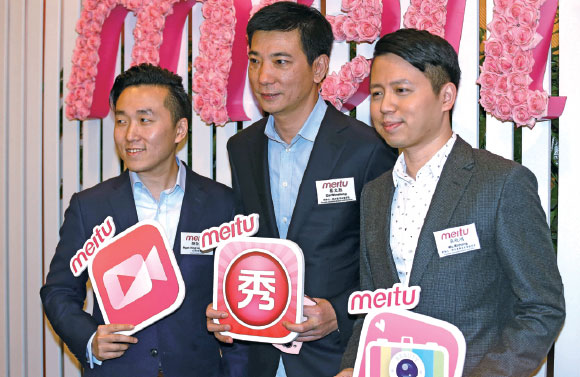 Meitu CFO Gary Ngan (left), founder and Chairman Cai Wensheng (middle), and founder and CEO Wu Xinhong pose for a photo during Meitu IPO news conference in Hong Kong. Edmond Tang / China Daily