O'Sullivan says Chinese cash could revamp snooker's image
Snooker legend Ronnie O'Sullivan believes the sport needs a jolt - and the solution could be resolved by an infusion of Chinese cash.
The mercurial 40-year-old quintuple world champion - whose comments are never dull but sometimes spark disciplinary action - said the sport's staid image pales in comparison to others whose packaging is slick and contemporary.
O'Sullivan - who was speaking on the sidelines of the UK Championship tournament where he has reached the last 16 - made the remarks after no snooker player made the list of nominees for BBC Sports Personality of the Year.
"Maybe if it went to China and you found some billionaires out there who would put the sport on and have millions in prize money, you could start looking at snooker as a core sport again," said O'Sullivan, fondly known as 'Rocket Ronnie'.
"But you're competing with Formula One, tennis, golf and the Olympics.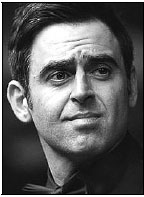 Ronnie O'Sullivan says snooker is becoming 'a nothing-type sport'.
"They give it (snooker) like 10 seconds on BBC Sports Personality - it's a complete insult to the sport but it's what they think of it and what they believe it warrants, and that says it all, really."
O'Sullivan, whose charisma and unpredictability make him easily the most watchable and bankable of the present generation of snooker players, said the game was selling itself too cheaply.
"Snooker is becoming a nothing-type sport - it's kind of like a car boot sale, but with the other sports it's like shopping at Harrods," he said.
"They're putting so much of it out there because it's cheap TV. I think snooker has lost that respect amongst other sports."
Murray in the mix
Meanwhile, Andy Murray could round off a sensational year that has seen him finish as men's tennis world No 1 and win both Wimbledon and the Olympic title with a historic third BBC Sports Personality of the Year award.
The 29-year-old - who won the individual award in both 2013 and 2015 - is one of 16 nominees unveiled on Monday, with the great majority reflecting Britain's record success at the Rio Olympics and Paralympics.
Soccer players Jamie Vardy and Gareth Bale and golfer Danny Willett are the exceptions.
Vardy gained the nod because of his goals in Leicester's astonishing Premier League title victory and Bale for his monumental efforts in landing the Champions League trophy with Real Madrid and then being the driving force behind Wales' fairytale march to the Euro 2016 semifinals.
Willett made the list for winning the Masters.
The winner as well as the award winners in the other categories such as team will be revealed in a gala show in Birmingham on Dec 18.
A public vote will pick the winner from the following nominees:
Nicola Adams (boxing); Gareth Bale (soccer); Alistair Brownlee (triathlon); Sophie Christiansen (equestrian); Kadeena Cox (athletics/cycling); Mo Farah (athletics); Jason Kenny (cycling); Laura Kenny (cycling),; Andy Murray (tennis); Adam Peaty (swimming); Kate Richardson-Walsh (field hockey); Nick Skelton (equestrian); Sarah Storey (cycling); Jamie Vardy (soccer); Max Whitlock (gymnastics); Danny Willett (golf).
(China Daily 11/30/2016 page23)