Shanghai increases house down payment requirements
City authorities say they are seeking to curb speculation, push for a rational market
Shanghai's housing authorities announced that they are stepping up limitations on home purchases in the city. In particular, raising down payment requirements as part of an effort to restrain fast growing house prices by limiting speculative buying.
Analysts said that more measures could be taken since policy makers had not exhausted the many tools they had in the box. In the process, the city's housing market may see fluctuations in both trading activities and average prices, they said.
The new measure announced on Monday said that the required down payment for first-home buyers was raised to no less than 35 percent of the total price, compared to the previous requirement of no less than 30 percent .
The definition of first-home buyer was also narrowed to those who do not own a home and also have no record of a housing loan from any bank nationwide. Previously, the definition looked only at housing loans from banks in the city. Homebuyers who have previously applied for a home loan and have cleared their debt are not defined as first-home buyers, according to the new measure.
Other buyers are required to pay at least 50 percent down payment, and buyers of non-standard apartments, such as villas and luxurious apartments, are required to pay at least 70 percent down, according to the new measure.
"The move totally rules out speculative buyers in the housing market in Shanghai, giving no chance for them to leverage home loans to buy more apartments than they actually need," said Feng Shuguang, a realty agent with Shanghai Dongyun Real Estate Ltd.
These policies could have a significant impact on transaction volumes as many recent deals have been households upgrading properties, with many of these purchasers taking advantage of the 30 percent to 40 percent down payment requirements. The implementation of the new measures means many of these purchasers may no longer have the requisite capital for the increased down payments of 50 percent to 70 percent, said James Macdonald, Head of Savills China Research.
"While this is unlikely to have an immediate impact on pricing, reduced transaction volumes will most likely cool price growth further. Additionally, if transaction volumes remain low for a sustained period of time, this will result in an increase in downward pressure on pricing," said Macdonald.
Since the beginning of 2016, Shanghai has launched a slew of measures to cool down its overheated residential market.
wuyiyao@chinadaily.com.cn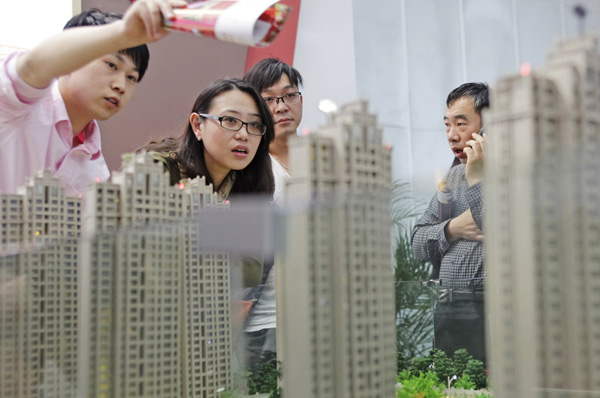 Buyers select apartments at a real estate fair.Provided To China Daily