Russians aided birth of Beijing market
The way Yin Guanghui tells it, the relationship began in a hotel room about 30 years ago.
"A smart businessman who sold jackets noticed the arrival of Russian guests and rented a room in the hotel to display his goods," Yin says. "Before long, half the rooms had turned into shops and, soon after that, Yabao Road and its surroundings were packed with traders' stalls."
Yin is speaking of the role the five-star Ritan Hotel in Beijing - where he is the lobby manager - played in establishing Yabao Road, about 4 kilometers from Tian'anmen Square, as the largest private wholesale clothing market in China aimed at customers from Russian-speaking countries.
At that time, the hotel was a popular choice for Russians in Beijing because of its proximity to various modes of transportation. It is near Chang'an Avenue, Beijing's east-west axis, 10 minutes by car from Beijing Railway Station and 40 minutes by car from the international airport.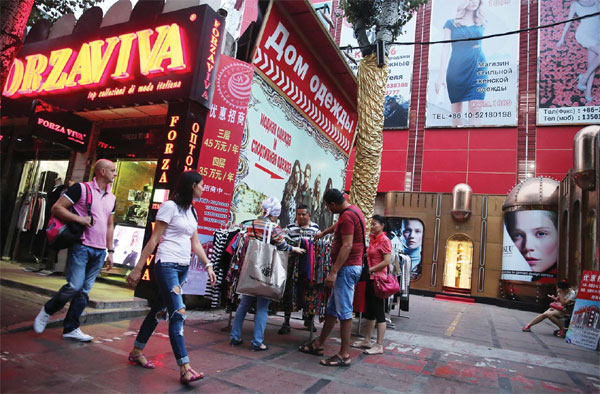 Yabao road and its surroundings are packed with traders' stalls. It is the largest private wholesale clothing market in China aimed at customers from Russian-speaking countries. Li Fei / For China Daily
The street would eventually turn into a sprawling apparel trade center with supporting services, including logistics companies, hotels and Russian restaurants. And its fortunes would coincide with China's opening up to the world.
The Ritan opened in 1984 - one of only a few hotels in those days accommodating foreign visitors - shortly after China's reform and opening-up began.
The shopping mecca, whose annual turnover is said to be as high as $10 billion (9.4 billion euros; 8.1 billion), has a total surface area of 465,000 square meters and consists of 15 shopping buildings, including the Ritan International Trade Center, Tianya Plaza and Yabao Plaza. The wares include all kinds of clothing, from hats and gloves to down jackets, fur jackets and shoes.
Yet so steeped in Russia is this area that its language is that of Tolstoy rather than Confucius or Shakespeare, and any Anglo visitor expecting an easy day's bargaining is likely to be in for a shock.
But lest we forget that we are indeed in China, just take a look at the facade of Tianya Plaza and you'll see dangling down, over five storeys, three red scrolls emblazoned with giant yellow Chinese characters. The essence of its message - that businesspeople need to put in a greater effort to innovate if they are to survive - would not be lost on any Russians doing business here who have learned Chinese.
Just as the Chinese economy is now grappling with slowing production after years of growth at breakneck speed, Yabao Road's traders have been struggling with a malaise that seems to have been slightly longer in the making. The signs of it are there for all to see, whether it be the missing Russian letter in a logo on a building or the tattered posters on shopping mall facades.
Talk to many businesspeople here and they will wistfully recall the zest that was palpable in this place 10 or 15 years ago, but that is now well and truly gone.
Apparently with that partly in mind, the municipal government last year announced that the area was going to be given a makeover and that the downtown foreign trade market would be transformed and upgraded.
"Low-end industries are gradually being transferred to neighboring provinces, and high-end industries will be brought in and occupy buildings once occupied by retailers," Beijing News said in a January report. It was possible that wholesalers could be forced to make way for research and development centers, garment designers and cultural and creative industries, the paper said.
Yang Cheng, deputy director of the Center for Russian studies at East China Normal University in Shanghai, says that "traders engaged in business between China and Russia will have to upgrade ... meaning they will need to produce top-quality goods that are of high added value. If they don't, they will be forced out of the market."
Many vendors in the Yabao Road market to whom China Daily spoke, say they now face a decision: Should they leave or should they stay? Some are looking to innovate in the kind of way the authors of that giant scroll perhaps had in mind, combining their traditional ways of doing trade with e-commerce.
To better understand the predicament those traders now face, one must look more closely at the market's history. It sprang up in the late 1980s, when the former Soviet Union was striving to develop heavy industry at the expense of lighter industries that produced goods for everyday use, such as clothing. Part of the breach was filled by businesses like those on Yabao Road, and eventually clothing buyers - predominantly from Eastern Europe - were pouring in to buy in bulk so they could resell the goods in their homelands. It was a lucrative business for all concerned.
One Russian trader even imported a shipment of chenille slippers so large that it needed two airplanes to bring them in, Yin says.
In the market's heyday, even a person who collected cardboard packaging could earn 300,000 yuan ($43,500; 41,000 euros; 35,200) a year, a staff member of Tianya Plaza says. The language that many pedicab drivers spoke as they solicited business was pidgin Russian, something that persists to this day.
By the mid-1990s the market had a reputation for selling reasonably good products at low prices, but that reputation was worn threadbare when many buyers became aware that so-called quality goods they were buying were fakes. Sales were hurt, and it would take several years for them to pick up once dealers began to clean up their act.
Ding Peihua, a professor of Russian studies at the Shanghai Academy of Social Sciences, says that a decade or so later, in the wake of the world financial crisis, Russia's domestic market has turned sluggish, exacerbated by the instability of the rouble and high inflation.
"There used to be four Russian restaurants and bars close to the Ritan Hotel, but now most are closed or have been sold by their Russian owners who have returned to Russia because business is so bad," lobby manager Yin says.
Wang Meng, a Beijing clothing trader who has done business in Yabao Plaza for more than 10 years, says: "We used to put chairs outside for the benefit of customers standing in long queues, but now there is simply nobody there."
A pedicab driver waiting in front of Tianya Plaza says he used to have very high takings every day, but lately he has been lucky to get 200 yuan a day. As he talks he repeatedly beckons prospective fares leaving the plaza. His appeals - in Russian he says he taught himself - meet with few responses.
"I feel bad about business, and I barely get a customer or two a day," he says.
A vendor of leather gloves who asks to be identified only by his surname, Cai, is working in a 5-square-meter store on the first level of Yabao Plaza. He says. "The only thing I can do is stay in this small shop waiting for bargain hunters."
"If I don't, I'm going to lose more money because I pay my annual rent a year in advance. I really hope business picks up."
In 2012 Ma Jia, an expert on cultural and creative industries, surveyed more than 60 shops in the market and concluded that one possible remedy for Yabao's ailments would be for its merchants to diversify from simply being daoye, or intermediaries, and to go onto the front foot and provide services in design as well as production and sales.
Ma and a local businessman, Sheng Jinpeng, resolved to begin making things happen. In 2013 they set up a chamber of commerce, aiming to strengthen the competitiveness of local brands and revive their businesses. The chamber now has about 100 members.
Over the years the clothing industry in the area has matured from being barely regulated to being a well-oiled machine, even if it needs a lot of attention. From the outset one of the first priorities Ma and Sheng set was for the area's businesses to promote themselves together.
Another local businessman, Tu Xiusheng, has experience in this kind of promotion. He has established the trademark Miegofce, and promotes it by combining traditional business methods and e-commerce. He also set up research and development centers in Beijing, Moscow and Milan, one of whose aims is to keep abreast of fashion trends. He has a display shop near Red Square in Moscow, where customers can inspect and try on clothes before ordering online.
Another of the area's traders who has plowed headlong into e-commerce is Zheng Riwei, owner of the clothing brand Icebear, whose main product is down jackets. Last year on so-called Singles Day, Nov 11 - which has turned into the busiest day of the year for Chinese e-commerce - he had a range of more than 20 products in his store on AliExpress, the global transactions-based retail website run by Alibaba Group, and everything sold out within 30 minutes, his takings being $300,000.
Yabao Road's businesses are now thinking and acting differently, Zheng says: "We're now reaching customers directly, and we are active internationally through the internet and trade shows."
Icebear and 16 of its fellow Yabao Road companies signed up to attend the 2016 Collection Premiere Moscow, one of the best known Eastern European fashion fairs, in the Russian capital from Aug 31 to Sep 3. The chamber organized for a China pavilion at the event for the first time, allowing Chinese trademarks to display their wares.
Ma, now vice-president and secretary-general of the Yabao business chamber, lauds Tu and Zheng as pioneers, businesspeople who are open-minded, willing to take risks and who will never give up no matter the difficulty of the challenge.
"For nearly 30 years Yabao Road, a private market that sprang up in the center of Beijing, has stood as a beacon for trade and friendship between China and Russia. It's something we can both cherish. Not only will it never disappear, it will remain the most recognized name card for private trade between our two nations," Ma says.
liushengnan@chinadaily.com.cn and shaoxinying@chinadaily.com.cn