Family opens door to many fleeing from Myanmar
Li Mumiao, a 32-year-old Chinese woman, has fed and sheltered more than a hundred Myanmar residents who fled to China on Sunday morning after armed clashes broke out along the border of their country, according to thepaper.cn.
Most of those she has helped are elderly and children.
After four ethnic militant groups attacked security forces in the north of Myanmar, thousands of residents have crossed the border to China and have been staying in camps.
Li, her husband and three children live in a one-bedroom house in the border township of Manghai in Dehong prefecture, Yunnan province, just a few meters from the resident camps. Two bamboo shacks in the courtyard shelter dozens of people. Other refugees slept on the ground of Li's yard on Sunday night after the conflict broke out.
"We could barely sleep," Li said of that night, adding that heavy gunfire could be heard across the border.
Most of the Myanmar residents brought no belongings when they fled the fighting, and few had food. The Li family gave them some food, and local residents donated as well.
Pickles, vegetables and steamed rice are now a regular part of the dinner fare for Li's family and the Myanmar residents.
The Li family is not rich. They moved to Manghai from a mountainous area, and it took three years to build their house.
Li and her husband, who must pay tuition fees for their three children, make a living by farming and doing small business, and they live a hand-to-mouth life.
"I am not rich, but they are poorer than me. I cannot be indifferent to their suffering," said Li.
One Myanmar national, Kong Enkong, said those who fled "are happy to have a shelter here, far from the fighting".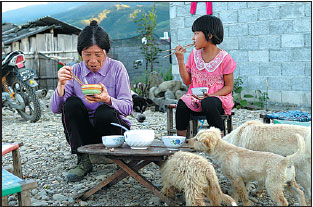 People who fled the fighting in Myanmar have been provided food and shelter since Sunday by a Chinese family in the border township of Manghai in Yunnan Province. Provided By Thepaper.cn