Huawei targets high-end phone market
Competition remains ferocious for biggest share of domestic market; winner is anybody's guess
Huawei Technologies aims to regain the top position in China with its latest high-end smartphones, the Mate 9 series, after it lost ground to domestic rival Oppo Electronics in the third quarter of the year.
Shenzhen-based Huawei launched new handsets in its home market on Nov 14, its latest effort to grab a bigger share of the high-end segment, where opportunities have expanded after Samsung's exploding smartphone crisis.
The Mate 9 Pro, the high-end version first unveiled in China, starts at 4,699 yuan ($683; 638 euros; 550). It comes with a 2K curved screen and a dual rear camera, developed with the German optics company Leica.
Yu Chengdong, CEO of Huawei's consumer business, says the Mate 9 series targets business consumers who need multitasking on their smartphones.
In the third quarter, Oppo overtook Huawei as the biggest smartphone vendor in China for the first time, with a market share of 18 percent and a quarterly handset shipment of 22.5 million units. Huawei's market share was 15 percent, with 18 million units shipped, according to data from Shanghai-based consultancy Canalys.
Oppo's rapid rise dovetails with its strength in offline retail channels, which played a big part in boosting sales in the third quarter of the year, says Nicole Peng, research director at Canalys.
"But in the fourth quarter, e-commerce sales will be of high importance, because the Singles Day shopping spree, the world's largest online shopping festival, falls during the period. Huawei, which has a sub-brand - Honor - targeting the online population, will have a big advantage," she says.
The new product launch came after Samsung recalled its new Galaxy Note 7 in October because of battery explosions.
James Yan, research director at Counterpoint Technology Market Research, is optimistic about the Mate 9's performance in China, where Huawei has established its brand as a good option for white-collar workers.
"The monthly shipments of the Mate 9 are likely to reach 700,000 to 800,000 units, roughly equal to the sales performance of its predecessor, the Mate 8," Yan says.
But, it is difficult to say whether Huawei can regain the crown. After all, he says, the next months will see the fiercest competition among China's top three smartphone vendors, Oppo, Huawei and vivo Mobile Communication Technology, whose shipment numbers are similar.
masi@chinadaily.com.cn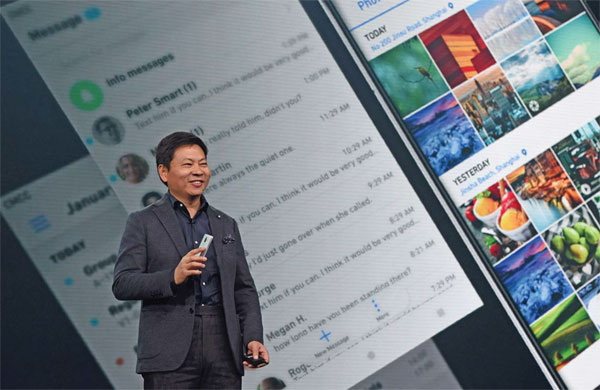 Yu CHengdong, CEO of Huawei Consumer Business Group, presents the new Huawei Mate 9 mobile phone during launch ceremony on Nov 3. Christof Stache / For China Daily