China Unicom links with Alibaba in bid to halt decline
China United Network Communications says it has partnered with internet giants in a move to arrest its continuing profit decline and speed up its shift toward the mobile internet.
China Unicom, the country's second-biggest telecom carrier, inked a strategic partnership with e-commerce giant Alibaba Group Holding on Nov 12 to cooperate on basic telecommunication services, mobile internet and industrial internet.
Wang Xiaochu, chairman of China Unicom, said all-round deep cooperation between China Unicom and Alibaba has a solid foundation. Jack Ma, founder and chairman of Alibaba, said he has high expectations for the deal.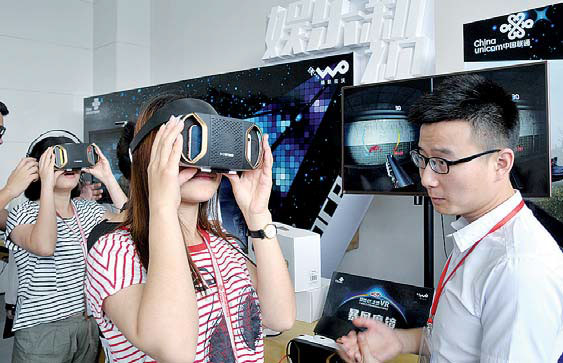 Customers try virtual reality devices at the China Unicom stand at a telecom exhibition in Guangzhou, Guangdong province. Liang Shengjian / For China Daily
China Unicom also signed a strategic cooperative agreement with Baidu Inc on Nov 2 to cooperate on projects in mobile internet, artificial intelligence, big data and telecom services.
Baidu aims to help China Unicom put the services of its brick-and-mortar outlets and franchised stores online. China Unicom will offer Baidu stronger telecom infrastructure support, including internet data centers and information and communication technology.
The cooperation between China Unicom and the internet giants comes after the National Development and Reform Commission selected China Unicom to be part of the first batch of enterprises for the pilot mixed-ownership reform.
Chinese local media recently reported that China Unicom would probably attract private investors to participate in its reform.
"China Unicom has rich network resources, but it has the fewest 4G users compared with its rivals, including China Mobile and China Telecom," says Peter Liu, research director at consultancy Gartner Inc.
"There is an urgent need to find new users and data flow portals," he says.
Liu says cooperation is a positive move, which will see each side benefiting from the other's strengths and enhance China Unicom's core business competitiveness.
Xiang Ligang, CEO of telecom industry website cctime.com, says it is an inevitable trend that internet companies partner with telecom carriers.
"It is expected that this cooperation will boost China Unicom's 4G user base," he says.
Xiang says the mixed ownership reform is a very complex process, involving share purchases and a change of operational modes, and needs time to implement.
Analysts say China Unicom, whose 4G subscribers accounted for 28 percent of China's total at the end of June, is likely to continue to face heavy marketing costs that will weigh on profits.
Its 4G subscribers reached 72.4 million in June, up by more than 46 percent from January. China Mobile had 429 million 4G subscribers in June.
fanfeifei@chinadaily.com.cn