AMC could become largest movie chain
Chinese-owned AMC Entertainment Holdings on Tuesday won approval from shareholders of Carmike Cinemas, the fourth-largest US movie chain, for a $1.2 billion buyout that will make AMC the world's largest movie exhibitor.
Georgia-based Carmike said 72 percent of the company's shares was voted in favor of merging its 2,954 screens largely in rural or suburban areas, with AMC, which is in urban markets.
Buying Carmike will make AMC the nation's largest movie chain with 8,218 screens, more than Regal Entertainment Group's 7,310 screens. Cinemark, the third-largest, has 4,542 screens. AMC bought the smaller Starplex Cinemas' 346 screens last year.
US Justice Department approval is needed for the merger, and Leawood, Kansas-based AMC has said it could come as early as next month. AMC chief Adam Aron has said AMC expects to divest "a limited number of theaters" to satisfy officials and has already begun looking for buyers. He said AMC will spend "literally hundreds of millions of dollars" upgrading Carmike theaters, with some keeping the Carmike name and others taking on AMC's.
AMC is a subsidiary of the Chinese real estate and entertainment conglomerate Dalian Wanda Group, which acquired it for $2.6 billion in 2012. Wanda operates China's largest theater chain, and is owned by Wang Jianlin, China's richest man.
Dalian Wanda bought Dark Knight producer Legendary Entertainment for $3.5 billion this year and recently paid $1 billion for Dick Clark Productions, producer of live events, such as the Golden Globe Awards, the American Music Awards and ABC TV's perennial Dick Clark's Rockin' New Year's Eve special.
AMC's original $1.1 billion bid for Carmike was announced in March, but large institutional investors with stakes in Carmike objected and pushed for a bigger buyout.
Carmike shareholders are to receive a combination of cash and shares of AMC Entertainment Holdings Inc equal to $33.06 for each share of the theater chain that they own.
"We are pleased with the outcome of today's vote," David Passman, Carmike president and CEO, said in a statement after the shareholder vote at a meeting in Atlanta.
The combination of AMC with Carmike, along with AMC's planned $650 million purchase of Odeon & UCI Cinemas Group, Europe's largest, would give AMC 900 theater locations, making it the world's largest.
aiheping@chinadailyusa.com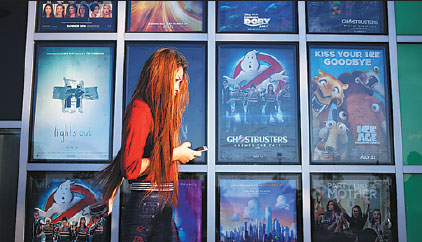 A woman walks past a display of movie posters outside of an AMC Entertainment Inc theater in West Chester, Ohio. Bloomberg