Public helps track down missing children
More than 90 percent of the missing children whose details were shared on an innovative web platform over the past six months have been located, the Ministry of Public Security announced on Wednesday.
The Tuanyuan platform - or Reunion, as it is commonly known - sends notifications via several social media apps to people in and around an area where a child has vanished.
Since May 15, when the program was launched, police have input the details of 286 children into the system. So far, 260 of them have been accounted for, the ministry said at a media gathering in Beijing.
"The platform allows the public to participate," said Yang Dong, director of the ministry's Criminal Investigation Department, who explained that people not only receive a child's details, but can also report sightings through apps.
"We alert the police officers in charge of a case of the clues at once, inform the public that a missing child has been found and refute rumors," he added.
Of the children who have been located, more than half had run away from home, while about 10 percent had become lost. Eighteen children had to be rescued from human traffickers, while another 52 were discovered to have died, including 32 who had drowned.
"All these children have been reunited with their parents, and the deceased children have been properly returned to their families," said Chen Jianfeng, who is in charge of combating human trafficking at the ministry. The search for those still missing is continuing, he added.
Phase 2 of the project will see it include almost every major social media platform in China.
The ministry already works with Amap, a leading mobile navigation app, and Sina Weibo. Now, it will team up with e-commerce giant Alibaba's Alipay and Taobao platforms as well as companies such as Baidu, Tencent and Qihoo 360.
"This will largely expand the coverage nationwide," said Liu Zhenfei, chief risk officer for Alibaba. "This is a great integration between modern internet technology and criminal investigation technology."
Liang Shuang contributed to this story.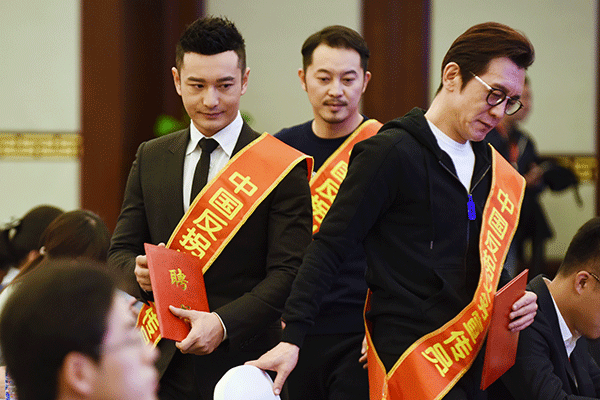 Celebrities Huang Xiaoming (left), Sha Yi (center) and Li Yong are appointed as advocates for anti-trafficking by the Ministry of Public Security as it launches the second phase of the Tuanyuan platform in Beijing on Wednesday.Wei Xiaohao / China Daily