Martial arts resets life for Kenya youth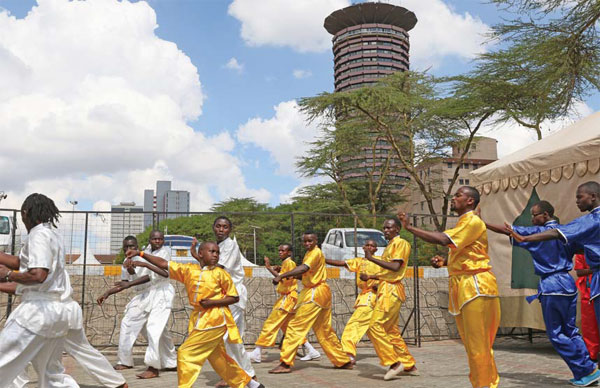 Members of a Kenyan kung fu club practice in preparation for a performance during the Kung Fu Festival held in Nairobi on Nov 5. Photos by Liu Hongjie / China Daily
In Kenya, the martial arts are gaining popularity, thanks to the Kung Fu Channel aired by StarTimes, a Chinese pay TV company.
Evidence of this is the number of 'likes' from across the country on the Shaolin Kungfu Wushu Association of Kenya Facebook page. So far, the association, established in 2008, has 10 martial arts clubs, each with 25-30 members.
According to Peter Mukuha, a senior kung fu instructor and the association's Facebook page administrator, interest is likely to increase significantly following the recent Kung Fu Festival held in Kenya's capital, Nairobi, on Nov 5.
"There is a growing interest from the Kenyan youth to learn Chinese martial arts for both self-defense and strengthening body, mind and soul. The StarTimes kung fu channel has contributed immensely to the growing interest," says Mukuha.
The kung fu festival which was organized by StarTimes, attracted hundreds of people. who were not only mesmerized by live performances by Chinese masters but also shocked by Li Guozhi's presentation.
To the disbelief of onlookers, Li bent a steel rod with his throat and broke a flat steel bar using his forehead. He also threw a sewing needle through a sheet of glass to burst a balloon.
"I have had a lot of training to acquire these skills so I kindly request you not to try what I'm about to do at home, because you may hurt yourself," Li warned before performing.
Although it involves fighting techniques, Li says kung fu is not about confrontation, strangling and killing. It is a way of life.
"Kung fu advocates the virtue of peace, treating people with kindness and courtesy," he says.
During the event, celebrating the fifth anniversary of the Kung Fu Channel, 10 local practitioners showcased their talents before 10 masters from Beijing, who selected the best three.
The three were awarded a fully-paid trip to China to undergo a week's intensive training at the Beijing International Arts School in December. After honing their skills, the winners are expected them to the members of the kung fu clubs.
Kiprop Lagat, director of culture in the Kenya's Ministry of Sports, Culture and the Arts, says the festival was another step in the growing cultural relationship between China and Kenya.
"The Kung Fu Festival is aimed at providing a platform to showcase and promote a blend of Chinese and Kenyan culture through kung fu as a sport," he says.
Noting that the sport requires patience, energy and time intertwined with discipline and hard work, Lagat says its practice will engage youngsters and give them a sense of discipline, respect and responsibility.
He says the StarTimes kung fu channel is not only entertaining Kenyans but also giving them experiences geared towards learning about Chinese culture. It also gives the youth an opportunity to exercise their talents through the sport.
edithmutethya@chinadaily.com.cn