Chinese Bank of Communications opens London branch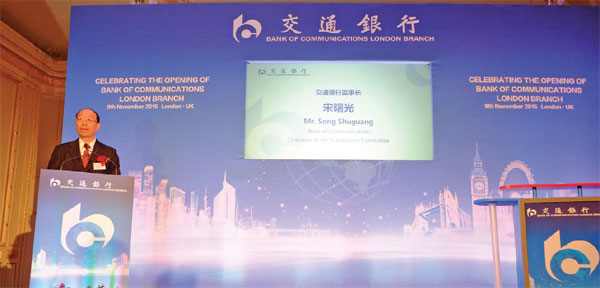 Song Shuguang, chairman of the supervisory committee of Bank of Communications gives a speech at the launch ceremony of the bank's London branch on Nov 9. Cecily Liu / China Daily
Facility gives the bank lending capacity proportional to the parent company's capital base, unleashing its full potential
The long-standing ambition of Bank of Communications to grow its London activities has been boosted with the launch on Nov 9 of a branch that significantly increases its lending and financing capacities.
The bank established a representative office in London in 1993 and a subsidiary in 2011. Opening a branch is a step up from that subsidiary status.
Unlike a subsidiary, which gives the bank lending and financing capacity proportional to the subsidiary capital base, a branch gives the bank lending capacity proportional to the parent company's capital base, unleashing the bank's full potential.
"We are set to expand in a major way with the setting up of our branch, and we are very excited about the opportunities of our UK expansion in the future," says John Liu, CEO of Bank of Communications (UK) Ltd.
The news makes Bank of Communications the fifth Chinese bank to have a branch in London, following in the footsteps of Bank of China, China Construction Bank, Industrial and Commercial Bank of China and China Merchants Bank.
With the launch of the branch, Bank of Communications hopes to soon increase its London-based financial activities such as foreign exchange trading, liquidity management for corporate clients, the development of new investment products and debt capital market activities, such as issuing bonds.
It will also trade commodities and precious metals, and provide investment management services for key corporate clients. These services are more complex than traditional activities, such as lending and financing for Chinese companies' overseas expansions and acquisitions.
Liu says Bank of Communications' financial market activities will be grouped under a new London sub-center to its financial market center, to be established soon. It is currently headquartered in China.
Another key focus for the London financial market center is offshore renminbi activities, such as renminbi foreign exchange trading, which Liu says will be a key area of growth.
London is already leading Western renminbi hub, with renminbi clearing volume reaching 10 trillion yuan ($1.5 trillion; 1.3 trillion euros; 1.2 trillion) within two years. The International Monetary Fund's inclusion of renminbi in its basket of special drawing rights currencies is expected to help further growth of renminbi offshore activities.
It is expected to trigger more Western institutional investors to rebalance their portfolios by including renminbi assets, as many of them track the SDR basket.
"Our renminbi activities in London are set to grow, alongside the growth of renminbi as an international settlement and reserve currency," says Liu.
In addition to renminbi trade financing activities, the bank hopes to develop more renminbi investment products in London, such as foreign exchange trading products, renminbi interest rate swaps, options and futures, Liu says.
Established in 1908, the Bank of Communications is one of China's largest banks. It was listed on the Hong Kong Stock Exchange in 2005 and the Shanghai Stock Exchange in 2007. It started its international expansion in 1992 with a branch in New York.
Currently with 30 employees in the UK, Liu says the bank's business culture is very multinational. There are only seven staff members from the domestic team, the rest being locally hired, of whom half are Chinese and the rest non-Chinese.
"The first part of our London activities is serving Chinese businesses that expand into the UK and Europe. We help them finance their investment and overseas acquisitions, as well as giving them other advice and connecting them with local advisors in the UK," says Liu.
Many are already clients of the bank in China. "So it's a pleasure to help them with their overseas expansion," Liu says.
The bank also participates in London's loan syndication market, where it lends to British companies and all the biggest European companies.
"This is a large market by size, but there is also another important reason for us to work in this market, which is to build good relationships with big British firms, so that we can work with them in the future," says Liu.
Another area of its activities is trade financing, where it makes loans to exporters and importers.
Meanwhile, Bank of Communications has expanded into continental Europe with the establishment of a branch in Frankfurt, Germany, and a subsidiary in Luxembourg in 2015. It is now in the process of establishing a branch in Paris and another one in Rome.
With a strong presence in Europe, the risk of the UK potentially losing "passporting" rights after Brexit does not affect Bank of Communications so much, as its European activities are mostly conducted by European branches.
Passporting currently allows UK-based financial services companies to distribute products or finance deals across Europe. The risk of losing passporting has already caused concern among London's financial community, with some banks considering moving a portion of their activities to Europe.
But Liu says he believes the UK government should give greater support to Britain's finance industry, amid Brexit uncertainties.
"I feel that the UK government should give great emphasis on reassuring the financial industry that it places economic and financial issues on its priority list in Brexit negotiations," says Liu.
But he is optimistic about the long term. "I feel over the long term, the UK's importance as a financial center will not change, so I'm optimistic about the UK's future financial market potential," Liu says.
cecily.liu@mail.chinadailyuk.com