Park to let Parliament choose PM
Prosecutors carry out swoop on Samsung Electronics as part of a probe over scandal
South Korean President Park Geun-hye said on Tuesday she will withdraw her nominee for prime minister if Parliament recommends a candidate and is willing to let the new premier control the Cabinet, seeking to defuse a crisis rocking her presidency.
Park's comments at a meeting with the speaker of Parliament indicated she was willing to relinquish some control over state affairs - a key demand by opposition parties to resolve the scandal stemming from allegations that her friend improperly wielded influence using her ties to the president.
"If Parliament recommends a good person with an agreement between the ruling and opposition parties, I will appoint that person as prime minister and allow him to essentially take control over the Cabinet," Park told the speaker, Chung Sye-kyun.
The position of prime minister is usually a figurehead in South Korea, with most power concentrated in the presidential office.
Park has been severely bruised by the scandal involving her friend, Choi Soon-sil, who is alleged to have used her closeness to the president to meddle in state affairs and wield influence in the sports and cultural communities.
Choi has been charged with abuse of power and fraud while a former aide has been charged with abuse of power and extortion after they helped raise $68 million from dozens of the country's biggest conglomerates on behalf of two foundations.
Park nominated Kim Byong-joon, a former Cabinet minister, as prime minister last week but the move, which requires a parliamentary approval, drew anger from the opposition as a bid to divert attention from the crisis and yet another example of her heavy-handed approach.
Approval rating plunges
Park has publicly apologized twice for the scandal but her approval rating has plunged to 5 percent according to a Gallup poll released on Friday, the lowest since such polling began in 1988.
No South Korean president has failed to finish their five-year term, but Park has faced growing pressure from the public and some hardline political opponents to quit. Park's term is due to end in early 2018.
South Korean prosecutors raided the offices of Samsung Electronics earlier on Tuesday as part of a probe over the scandal involving Choi, a prosecution official said.
South Korea's Yonhap News Agency reported prosecutors are looking into whether Samsung improperly provided financial assistance to Choi's daughter.
Samsung Electronics, reeling from a $5.4 billion profit hit after it was forced to discontinue its fire-prone Galaxy Note 7 smartphone, said prosecutors visited its office but declined to comment further.
Prosecutors have been investigating an allegation that Samsung provided $3.1 million to a company co-owned by Choi and her daughter, who was previously a member of the South Korean national equestrian team, Yonhap reported.
Park Sang-jin, a Samsung Electronics president for corporate relations, is currently head of Korea Equestrian Federation. Yonhap said his office was part of the prosecutor's raid Tuesday morning. Park Sang-jin could not be reached for comment.
Yonhap reported prosecutors were also raiding the offices of the Korea Equestrian Federation and the Korea Horse Affairs Association.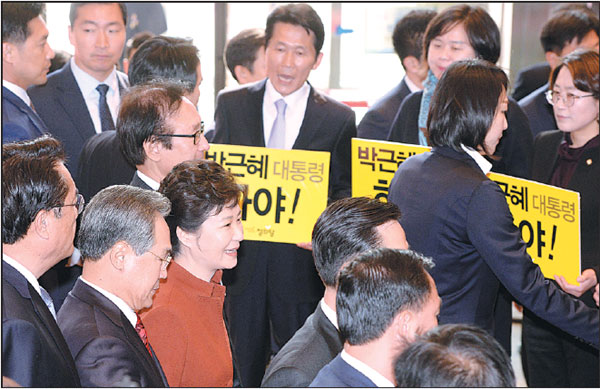 President Park Geun-hye walks past members of the minor opposition Justice Party at the National Assembly in Seoul on Tuesday. The placards read: "Step down President Park Geun-hye".Bae Jaeman/ Yonhap Via Reuters