Kenya giving technical skills to youth, with China's help
Kenya's manufacturing sector is heading for a major development, thanks to AVIC International Holding Corp, a Chinese civic engineering firm equipping youth with technical skills, a key factor in the growth of the sector.
The company, through its Africa Tech Challenge, is encouraging young people to pursue technical courses to provide much-needed skills that can propel the country's economic growth.
"The ATC is a platform for youth to upgrade their basic technical skills into more proficient ones that will not only breed the 'made in Africa' brand but facilitate entrepreneurship and self-employment opportunities," says Liu Jun, vice-president of AVIC International.
Liu says the company is determined to teach skills to as many Kenyan young people as possible in order to transform the manufacturing sector, which is crucial to the success of the country's economic road map known as Vision 2030.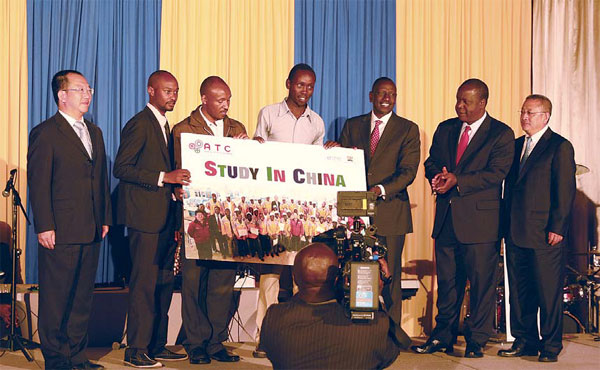 Winners of the Africa Tech Challenge will be sponsored to study at engineering universities and technical schools in China. Liu Hongjie / China Daily
Kenya's Deputy President William Ruto acknowledges that a shortage of skilled manpower has been a key challenge to the growth of the sector and applauds AVIC International for its initiatives to help the nation address the challenge.
"AVIC International is spot-on in helping us provide young people with relevant skills that will help transform this economy," he says.
Ruto says that through the ATC Kenya has for the first time been able to export "made in Kenya" machine parts.
In June, Kenya exported to China KES10 million ($98,500; 90,200 euros; 81,000) worth of mechanical parts made by Kenyan university students. The spare parts, which were made at Nyeri National Polytechnic and Kabete Technical Training Institute, were to be used in earth excavators and other heavy equipment.
"This shows a glimpse of what can happen if we have the relevant skills in the country," Ruto says.
Kenya's Cabinet Secretary for Education, Science and Technology Dr. Fred Matiang'i says the future of economic development in Africa lies in effective utilization of human capital.
"This will be achieved by providing relevant skills," he says.
Matiang'i says there is a need to encourage more people to join technical institutions. He noted that current enrollment is only half the available capacity.
In addition to partnering with private firms such as AVIC International to encourage youth to pursue technical courses, Matiang'i says the government is extending higher education loans to students in technical colleges.
This year, AVIC upgraded the challenge to the whole African continent, with Uganda, Ghana and Zambia participating in the third ATC contest.
"A huge unemployment rate is not only faced in Kenya but it spills over to the whole of Africa," says AVIC's Liu. "However, I strongly believe that the youth are the hope of this continent; therefore, we must walk with them and provide them the necessary skills to propel them forward."
According to Liu, China became the second-largest economy in the world by paying attention to its vocational education, which largely equipped its citizens with the necessary skills to transform the nation.
He says AVIC is committed to contributing to the attainment of Africa's vision in the spirit of offering substantial partnerships and genuine friendship.
"Africa will certainly have a bright future, with more and more of its youth getting educated and being equipped with skills," he says.
The ATC program is mainly focused on general lathe work, with a division for training and another for the contest. During this year's competition, 27 teams from different vocational schools in Kenya were chosen, each comprising two students, a technician and an adviser. They were trained for one week.
The top 14 local teams and three international teams (Ghana, Uganda and Zambia) qualified for the finals and received three weeks of extra training. The training was followed by competency-based tests in which participants demonstrated their acquired practical skills.
The top six teams were presented with cash prizes, certificates and trophies during a ceremony held at a five-star hotel in Nairobi, Kenya, on Oct 24.
Three outstanding students won fully-funded scholarships to study at engineering universities and technical schools in China.
Robert Mathenge, one of the sholarship winners, says he is excited to get the opportunity to further his studies in China.
"My dream was to enroll for a degree program after graduating next year, but I didn't know how. So I'm truly grateful to AVIC International for giving me this opportunity," he says.
Mathenge who is pursuing a diploma in mechanical engineering production at Kenya Technical Trainers College, says the test called for hard work, programming knowledge and speed.
AVIC runs ATC as a youth empowerment project. It launched the program in 2014 in conjunction with Kenya's Ministry of Education.
edithmutethya@chinadaily.com.cn