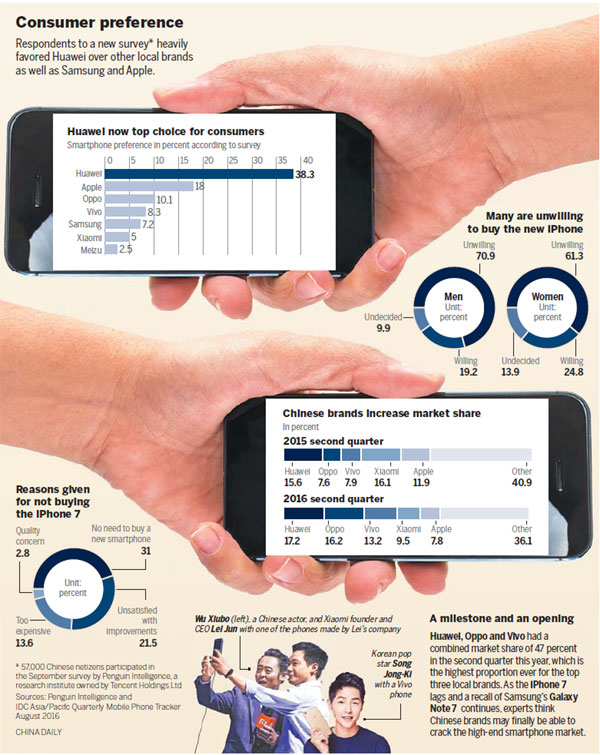 Samsung's problems with exploding batteries create an opening for domestic manufacturers
Zhang Jing, 29, who works at a research institute in Shenzhen, has been using a Samsung Galaxy Note 3 smartphone for two years.
Its exquisite design and high-megapixel camera made her a big fan of the South Korean tech giant. Zhang had planned to upgrade to a Galaxy Note 7.
But her love affair with Samsung came to an end after reports of explosions involving the newly launched Note 7.
Samsung said earlier in October it would recall about 190,000 Note 7 phones in China to avoid further battery incidents.
"It is a matter of trust. I don't think I will buy Samsung smartphones anymore. Local brands are good alternatives," she says.
Zhang is not alone. The ongoing Note 7 recall crisis is drawing more consumers away from Samsung to local players, analysts say, highlighting broader problems foreign smartphone makers face in China as homegrown brands Huawei and Oppo quickly catch up.
Of 57,000 Chinese netizens polled by research institute Penguin Intelligence in September, 7.2 percent said they planned to buy a Samsung smartphone while 38 percent named Huawei as their top choice for their next handset.
"We have already noticed a fall in the sales of Samsung's full product lineup, including both its premium handsets and low-to-middle-end devices," says Jin Di, research manager at International Data Corp China.
The South Korean company, with a market share of less than 7 percent in China in the second quarter of this year, is likely to see a further decline in shipments, she adds.
As Chinese smartphone vendors make steady improvements in hardware and software, foreign firms are losing their shine, says Nicole Peng, research director at Shanghai-based consultancy Canalys.
Domestic players account for 85 percent of China's smartphone market, and the figure is likely to reach 90 percent within a year, she says.
Samsung's foreign peer Apple, for instance, is also wrestling with a drop in sales. Its latest model, the iPhone 7, failed to inspire the enthusiasm seen among consumers when earlier versions were released.
More than 70 percent of the 57,000 Chinese consumers polled said they would not buy the iPhone 7, citing limited improvements and the high price tag as major reasons.
Wu Wenjun, who has been selling phones and accessories in Beijing's Chaoyang district for two years, says that in the past, consumers would come in and grab an iPhone or Samsung handset without shopping around. Now, however, Wu says more customers want to try out local models.
"I use the Huawei P9. Previously, I would remove the 'Sent from my Huawei' signature at the bottom of the email app because Chinese brands often were associated with inferior design and systems," Wu says.
"But now, everybody knows Huawei, and many of them have become fans."
In the second quarter, Huawei, Oppo and Vivo were the top three brands in China, with a combined share of 47 percent of the market, according to IDC.
Samsung barely registered in market rankings in China in the second quarter, and Apple was fifth. That marks a drastic change from several years ago when the two firms dominated the world's largest smartphone market.
Though Apple and Samsung still have a big presence in the above-3,000 yuan ($445; 408 euros; 363) handset market, local players are eroding their share, says James Yan, research director at Counterpoint Technology Market Research.
"It is Chinese vendors, not foreign firms, that are actively experimenting with new technologies that resonate with local consumers, such as wireless charging, bigger storage and phones that support multiple carriers," he says.
Apple, for instance, did not offer dual cameras until the iPhone 7 Plus, which was unveiled last month, about half a year later than Huawei's P9, which comes with dual Leica lenses.
In smaller cities, Oppo and Vivo have seen big sales jumps after hiring celebrity endorsers and creating a large network of brick-and-mortar partner stores to sell their phones.
"Since the Chinese smartphone market is reaching saturation and is driven chiefly by replacement users, consumers in third-tier to fifth-tier cities are also demanding high-quality handsets, and most of them have chosen domestic brands," says Peng from Canalys.
Contact the writers at fanfeifei@chinadaily.com.cn