Trump says he's winning, polls say otherwise
Hillary Clinton and Donald Trump launched their two-week scramble to the finish line of the US presidential race on Monday, with the billionaire Republican dismissing the polls to insist he's "winning" the race.
"This is bigger than Brexit, what's going on," the 70-year-old Trump told a rowdy rally in Florida, referring to Britain's shock June vote to leave the European Union.
The Democrat Clinton, 68, sought to cement her lead over her White House foe by conquering swing states including Florida, North Carolina and Ohio where early voting has already begun, as the rivals blitz crucial battlegrounds where the race will be won or lost on Nov 8.
Trump, who faces an increasingly narrow path to victory amid damning revelations about his treatment of women, and his claim that the US election system is "rigged", continued to assure his supporters that the polls were unfairly tilted toward Clinton and that he would prevail.
"We're winning, not only Florida, but we're going to win the whole thing," Trump said in St. Augustine, telling supporters: "I am your voice."
'Vote rigging'
Trump reiterated his unsubstantiated claims of vote rigging, and refused to back off from his incendiary threat not to accept the results of the election if he loses.
He also gave a nod to the early voting system in Florida, urging his supporters to "leave here and vote!"
Residents of Chicago, Charlotte, Miami and Las Vegas are already going to polling stations to cast ballots - with initial indications suggesting a surge in early voting among Democrats.
"We've got to get people turning out. That's the most important thing we can do," Clinton said in Cleveland.
At least six million US citizens have already voted, according to election expert and University of Florida professor Michael McDonald.
At a fundraiser in La Jolla, California, President Barack Obama acknowledged that the White House wants an overwhelming victory for Clinton in order to send a message that Americans were rejecting Trump's divisive rhetoric.
"We want to win big," Obama said. "We don't just want to eke it out, particularly when the other guy's already started to gripe about how the game is rigged."
'We are behind'
Most polls put Trump a few points behind in Florida, where Clinton campaigns on Tuesday and then Wednesday, her 69th birthday.
Trump's campaign manager Kellyanne Conway appeared to contradict her candidate by admitting Sunday on NBC's Meet the Press that "we are behind," but nevertheless insisting that the race was not over.
"Saying the race is over before people actually cast their votes I think is a really elitist proposition going on right now," she told MSNBC on Monday.
Clinton, the former secretary of state vying to become the first female president, leads the Republican real estate mogul nationally by about six points according to the RealClearPolitics average of polls. She also leads in most battleground states.
A new national ABC News poll showed her on 50 percent to Trump's 38 percent - her highest score since the race to succeed Obama began.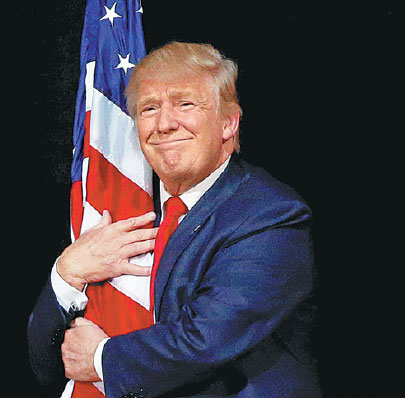 Donald Trump hugs the US flag as he comes onstage to rally in Tampa, Florida, on Monday. Jonathan Ernst / Reuters