Europe fuels bonanza for Huawei
Demand soars for high-end Chinese smartphone as company strives to build brand image
Huawei Technologies Co announced it has shipped 100 million smartphones so far this year, two months ahead of last year's schedule, as it benefits from robust growth in Europe and the overall rising demand for high-end smartphones.
He Gang, head of the Shenzhen-based company's smartphone unit, said that western and northeastern Europe were the fastest-growing markets in 2016, as Huawei stepped up its efforts to build its brand image.
"The year-on-year growth rate in these regions ranges from 50 to 100 percent," He said, adding that the company is confident it can ship 140 million smartphones by year's end.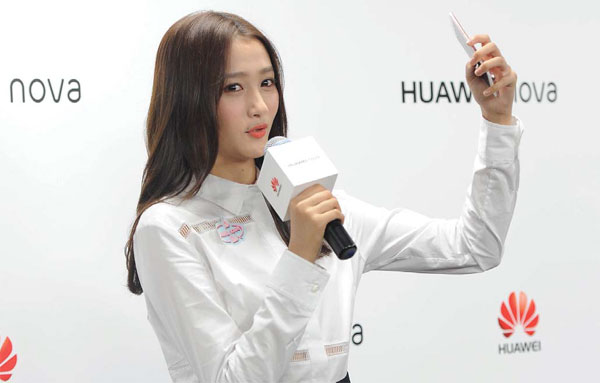 Actress Guan Xiaotong represents Huawei Technologies at the release of the company's Nova smartphones in Chengdu, Sichuan province. Provided to China Daily
Huawei, which started up as a telecom equipment maker, has recently emerged as the world's third-largest smartphone vendor. It is seeking to displace Samsung and Apple as the world's largest smartphone vendor, after it secured the top position in China.
Last year, it took Huawei 12 months to reach 100 million shipments.
According to He, the sales volume of its handsets selling for more than 3,000 yuan ($445; 405 euros; 362) almost doubled in the past 10 months from a year earlier. The 2,000- to 3,000-yuan handset segment also managed year-on-year growth of 30 percent.
Jessie Ding, a research analyst at Shanghai-based consultancy Canalys, says: "Rapid growth in Europe, a smartphone market that is stable and saturated, demonstrates Huawei's increasing brand influence."
To build up its high-end image in consumer electronics, Huawei signed Argentine soccer superstar Lionel Messi as its global ambassador to promote its products.
The company also teamed up with Leica to offer dual cameras on its flagship phones, which turned out to be popular among European consumers, Ding adds.
Data from Canalys show that in the second quarter of this year, Huawei shipped 5 million smartphones to Europe, grabbing an 11 percent market share. Last year, the figure was 7 percent.
Xiang Ligang, CEO of the telecom industry website cctime.com, said Huawei has been paying increasing attention to the European market, where it has introduced most of its high-end smartphones.
"Samsung's ongoing smartphone recall crisis will give Huawei a big opportunity in European countries, where consumers are very brand-conscious," Xiang said.
masi@chinadaily.com.cn