Chinese money trail leads to Europe
Billionaires serve as a beacon and an example of how to thrive for European enterprises beset by a slow economy
At a time when European businesses and the entire European economy remain in the clouds of uncertainty and crying out for a much-needed capital injection, it is immensely reassuring to see that once again the number of Chinese billionaires has grown and exceeds the number of American billionaires.
Of course this concentration of Chinese wealth is not automatically good news for European businesses. But it points to the changing nature of how these Chinese billionaires have accumulated such staggering sums and, most important, precisely what they intend to do with their wealth.
Chinese billionaires, including Wang Jianlin, head of property giant Dalian Wanda, and Jack Ma, the charismatic showman running Chinese internet giant Alibaba, are very much investment-driven. Wealth creation is not an end in itself but rather a means to invest further and build their corporate and product brands globally - good news for cash- and capital-starved European companies.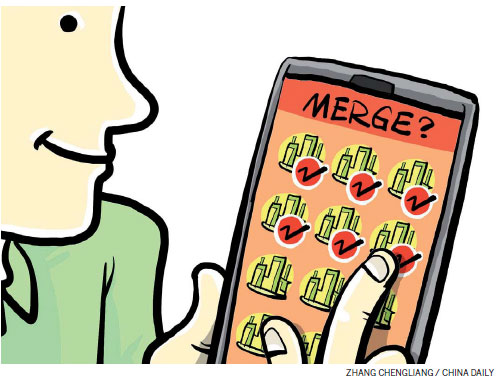 Moreover, these typically younger, modern Chinese billionaires are eyeing investments across a range of diverse industries.
Of China's 594 billionaires (the US has 535), Dalian Wanda's Wang tops the list. In close second comes Alibaba's Ma, whose wealth has soared by a staggering 41 percent in one year alone.
Wang's personal fortune now stands at an awe-inspiring $32.1 billion but - critically for European industry - he continues to invest heavily outside China. Recent forays into the UK cinema industry and a strategic partnership formed with Sony provide ample evidence of investment opportunities for European companies.
Hot on Wang's heels, Ma's wealth is estimated at $30.6 billion. Evidence of Alibaba's investment commitment to Europe requires looking no further than its payment service Alipay, which will soon be available across the European retail industry to Chinese tourists - great news for European retailers who benefit greatly from the approximately 120 million Chinese tourists who travel outside their country each year. France, Italy, Switzerland and Germany are firm favorites of these tourists, whose average per capita spend stands at a whopping $875.
In third place sits Pony Ma, leader of online gaming giant Tencent, with a mere $24.6 billion sitting on his laptop.
Just last year, Tencent secured a majority share in the major Switzerland-based gaming company Miniclip, demonstrable proof of Tencent's Europe-wide investment intentions
Before the ink was dry on the deal, Miniclip expressed publicly its absolute delight with Tencent's much-needed capital injection.
Chinese technology giant Baidu, where leader Robin Li has amassed a personal fortune of $14.6 billion, has also declared publicly a keen interest in investing across Europe, with no apparent concern over Brexit. Baidu currently operates a map service in Europe.
Only last month Baidu's share price soared on the Nasdaq over European expansion rumors.
Perhaps most indicative of this new wave of Chinese billionaire is Yao Zhenghua of investment and real estate company Baoneng Group. Yao's personal fortune rocketed by an unimaginable 820 percent to a staggering $17.2 billion, which saw him leapfrog into fourth place.
Yao's incredible business and financial growth has much to with capital markets and financial investment, and Europe is surely firmly on his radar.
Mergers and acquisitions may well be on the minds of these new-wave Chinese billionaires, for whom Europe has been the prime focus in recent years. In fact, in 2016 so far, a record $76.5 billion has been sunk into European company takeover deals by Chinese firms.
This year's investment level makes for even more impressive reading when compared with last year's investment of $23 billion by Chinese firms in Europe.
Changes in the nature of industries chosen for major European investment and expansion by Chinese billionaires are also taking place. This new wave of billionaire investor has moved beyond the usual resource and energy sectors and into the rapidly growing industries of the future such as technology, chemicals and even the entertainment and leisure industries.
These mega cash-rich Chinese investors also appear very comfortable with a more modern business model, not driven by low cost production but rather by high, sustained levels of investment with the aim of premium brand building.
Chinese investment intensity in Germany, Europe's long-established leader in engineering excellence and design, provides demonstrable evidence of this very modern business mind that now dominates among China's growing number of billionaires. By June this year, 24 German companies had been taken over by Chinese firms, almost one per week, compared with an overall total of 25 during the whole of the previous year.
Not that this trend is likely to slow down, with the modernization of Chinese industry a central government priority.
European organizations should not simply see this as an ideal opportunity to shore up short-term financial and market positions but should take a long-term perspective when considering investment attention from Chinese firms.
Nor should European companies take the view that any investment activity is aimed at consolidation and expansion across European markets only. Recent Chinese investment in Europe has been characterized by clear signs of long-term strategic partnership rather than hostile, short-term asset-stripping that has dogged the M&A industry over many years.
It is also clearly the case that global expansion is the aim of recent Chinese investment in European companies and not just short-term improvement in certain European countries.
While it is rather simplistic to associate "modern" and "innovation" with a younger group of business leaders, it is perhaps significant that many of China's most recent billionaires are younger. No one typifies this trend more than Wang Han and Wang Yue, who at the very tender ages of 28 and 32, have already amassed personal fortunes in excess of $1 billion.
Wang Yue, often referred to as China's "web game billionaire", deserves special attention and respect, given that his personal fortune has been earned with no apparent inheritance at all. Wang Yue is founder and chief executive officer of Kingsnet Technology, an online and mobile games company.
Equally exciting for European firms is the range of industries represented by these relatively young Chinese billionaires. The range runs from gaming technology (Wang Han and Wang Yue) to education (TAL Education Group, led by Zhang Bangxin, 32) to real estate (Country Garden Holdings, led by Yang Huiyan, 34) to production technology (DJI, led by Wang Tao, 35) to transportation (DidiKuaidi, led by Cheng Wei, 33).
European industry should welcome this beacon of billionaires from China, which should shine a bright light inside boardrooms across Europe and could inject large swaths of ailing European firms with not only much-needed cash but, even more important, innovation, enterprise and global market opportunity.
The author is a visiting professor at the University of International Business and Economics in Beijing and a senior lecturer at Southampton University. The views do not necessarily reflect those of China Daily.