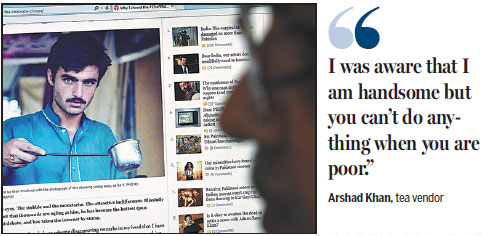 A Pakistani man looks at images on the internet of Arshad Khan, who became famous on social media, in Islamabad, Pakistan, on Wednesday.Farooq Naeem / Agence Francepresse
A Pakistani tea seller with velvet eyes saw his life changed this week when his portrait spread around the internet, sparking ardent debates on class, objectification, and the place of ethnic Pashtuns in society.
Arshad Khan had no idea he had set the internet alight from Pakistan to India and beyond: he has no phone, and cannot read.
"It was a real surprise," said the young "chai wala", or tea seller.
"I was aware that I am handsome but you can't do anything when you are poor," he said, adding that the image has "changed the way I think."
In the candid photograph, snapped by a passing photographer and posted on Instagram, Khan prepares Pakistan's ubiquitous milk tea, his blue green eyes looking frankly into the camera.
It set social media users swooning, with the 18-year-old's image shared tens of thousands of times since Oct 14.
By Tuesday, the Islamabad market where photographer Javeria Ali took the fateful shot was swarmed by dozens eager to gawk at the young worker.
But in a country where women have long fought for rights and rarely express their feelings publicly, that fervor soon morphed into an intense debate on what it meant to reduce a poor man to a beautiful object.
'Reverse sexism'
"We are more used to seeing this happen to women, it is still creepy when it happens to a boy," said feminist columnist Bina Shah. "Just because people are bored does not mean you can play with someone's life."
Columnist Maria Amir concluded that "reverse sexism is still a form of sexism" on the website of Pakistan's biggest-selling English language newspaper, Dawn.
But she also echoed many in noting that the true "ick factor" was in social class rather than gender.
"The elite getting excited over a hot #ChaiWala reeks of class privilege and the objectification of working class men," tweeted @nidkirm, who described herself as a sociologist based in Lahore.
And in a column in the Express Tribune Farahnaz Zahidi mocked the "surprise" that someone poor could be good-looking.
"The upper tier bourgeois of Pakistan have come to believe that even looks and God-gifted attributes are codependent on money and affluence?" she wrote.
Indeed, in his first appearance on television, viewers laughed at Khan's awkward speech and the Western suit in which he appeared uncomfortable.
"No girl would agree to marry him," wrote Twitter user @ItsMahah.
Light skin and eyes are the attribute of many Pashtuns, tribal inhabitants of northwest Pakistan and southern Afghanistan, romanticized as warriors by the British.