A family of science satellites will be developed by China during the 13th Five-Year Plan (2016-20), senior researchers at the Chinese Academy of Sciences say.
Technicians have begun preliminary research on four space-based scientific projects, says Gong Jiancun, deputy director of the academy's National Space Science Center.
These are the Solar Wind Magnetosphere Ionosphere Link Explorer, the Water Cycle Observation Satellite, the Einstein Probe, and the Magnetosphere, Ionosphere and Thermosphere Program.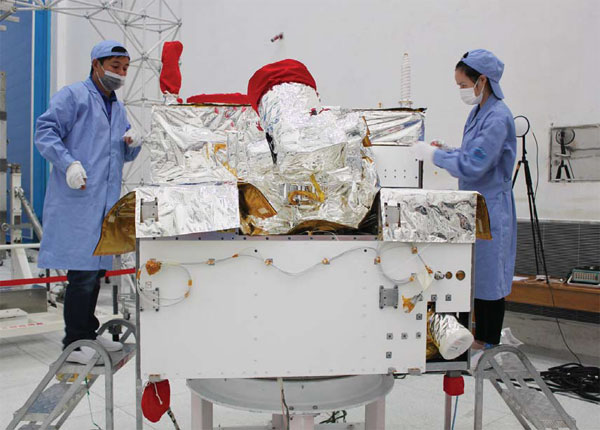 Technicians install thermal control materials for Micius at the Jiuquan Satellite Launch Center in July. Xinhua Photo
Plans for these projects have been given to the government for review and approval, Gong says, adding that the Hard X-ray Modulation Telescope developed by the academy will be sent into space this year to explore black holes and the rules of physics in extreme environments.
Wu Ji, director of the National Space Science Center, says his scientists are urging the government to allocate more funds to science satellite projects and to adopt favorable policies.
He suggests officials include satellite projects in the National Key Science and Technology Program for long-term planning, meaning that they would receive stable financial support.
In August, China launched the world's first quantum experiment satellite, taking a big step in building a space-based quantum communication network that would be virtually uncrackable.
The 631-kilogram Micius, named after the ancient Chinese philosopher and scientist, was lifted atop a Long March 2D rocket from the Jiuquan Satellite Launch Center in the Inner Mongolia autonomous region. It will operate 500 kilometers above Earth for at least two years.
It is the third of the Chinese Academy of Sciences' first group of space science satellites, coming after the Dark Matter Particle Explorer Satellite, which will help deepen scientists' understanding of galaxies and the universe, and the Shijian 10, which carried out a series of experiments in microgravity.
Micius will test the technology of relaying quantum keys, which can be used to encrypt or decrypt data, between ground stations and the satellite, according to Pan Jianwei, an academician with the Chinese Academy of Sciences and chief scientist of the quantum experiment satellite project.
He says the experiment will involve encoding and sharing a cryptographic key using the quantum properties of photons, with the aim of paving the way for the commercial use of quantum communications.
Previous research has found that it is practically impossible to crack, intercept or wiretap quantum communications because the physical traits of the quantum key prevent it from being replicated, separated or reverse engineered.
Another task of Micius will be to conduct experiments to help scientists improve their research of quantum mechanics, Pan says.
In addition to China, researchers in Austria, Germany, Singapore, the United Kingdom, Canada and Italy are also developing quantum communication technologies, he adds.