Each time Chinese drivers or tourists take out a smartphone and opens a map app, they are unknowingly connecting to the Global Positioning System, a product of the United States.
Yet space engineers have been working to ensure China's Beidou Navigation Satellite System can compete with GPS in the rapidly expanding navigation and positioning services market.
The country plans to launch about 30 satellites by the end of 2020 to give Beidou global coverage, according to the China Satellite Navigation Office.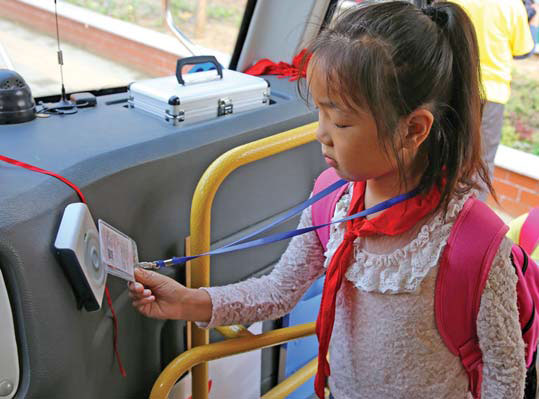 A primary student boards a school bus equipped with Beidou's navigation satellite system in Qinhuangdao, Hebei province. As of June, China had deployed 23 navigation satellites. Yang Shiyao / Xinhua
Seventeen satellites will be sent into orbit before 2018 to allow the system to cover nations involved in the Silk Road Economic Belt and 21st Century Maritime Silk Road, which aim to better link Asia, Africa and Europe. The strategy will benefit 4.4 billion people in 65 nations, according to Chinese government forecasts.
China launched the first Beidou satellite in 2000. The system began providing positioning, navigation, timing and short-message services to civilian users in China and areas in the Asia-Pacific region in December 2012.
The latest satellite in the network entered orbit on June 12. In total, China has deployed 23 satellites for Beidou.
The China Satellite Navigation Office has said it will take two years to build more than 1,800 stations for ground-based augmentation, which will help improve the accuracy of a global navigation system.
Some 175 augmentation stations are already in operation and provide differential corrections to Beidou, the office says.
Once the 2,000 or so stations are all in use, Beidou users in China will have access to an outstanding positioning and navigation service with accuracy to the centimeter, according to the office.
In addition, China is promoting Beidou to international organizations to boost the system's overseas expansion.
"We're pressing forward the recognition of Beidou by groups such as the International Civil Aviation Organization and the Third Generation Partnership Project," says Ran Chengqi, director of the China Satellite Navigation Office.
Beidou's standards have been ratified by the International Maritime Organization in nautical operations, joining the United States' GPS and Russia's Global Navigation Satellite System, he adds.
Wang Li, director of the China Satellite Navigation Office's International Cooperation Research Center, says the International Civil Aviation Organization has started standardization procedures for Beidou to enable it to be used by airlines.
The Third Generation Partnership Project has also agreed to support Beidou as a platform for timing and positioning for its member telecommunications associations, Li says.
"Beidou-based products are being used in more than 30 nations," Ran adds. "Next, we'll give the system global coverage and improve its stability and reliability."