Apple R&D set for Shenzhen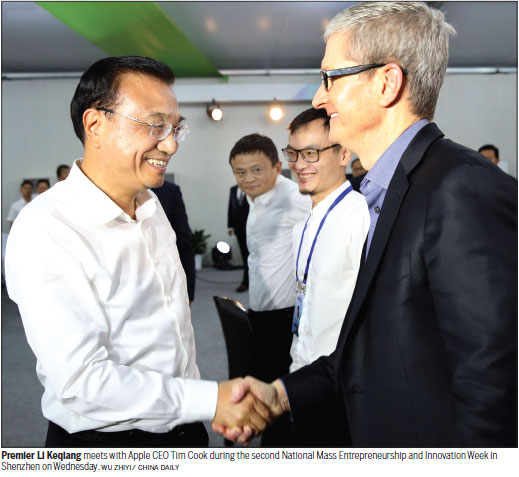 Apple Inc will set up its second China research and development center in Shenzhen next year, to strengthen ties with local manufacturing partners, as the US tech giant struggles with mounting competition and declining smartphone sales.
The plan came shortly after it established a R&D center in Beijing, highlighting the importance of the China market, the world's largest smartphone arena where Apple is losing ground to local brands such as Huawei and Oppo.
Apple CEO Tim Cook unveiled the plan for the new center on Tuesday during his visit to Shenzhen, the southern Chinese manufacturing powerhouse and innovation hub.
The Shenzhen center will help "our engineering team work even more closely and collaboratively with our manufacturing partner", Apple said in an emailed statement to China Daily.
"Shenzhen is an incredibly vibrant city where we are proud to support over 200,000 jobs between advanced manufacturing and the growing (mobile) app economy," the firm added.
The California-headquartered firm did not disclose the scale of its investment in the new venture.
Apple had set up its first China research and development center in Wangjing area of Beijing, with total investment to reach 300 million yuan ($44.6 million).
Jin Di, research manager at International Data Corp China, said unlike the Beijing center which focuses on partnership with universities, the Shenzhen unit will help Apple optimize its supply chain management.
"Shenzhen is home to Apple's major manufacturing and distribution partners.
The new center can help it better localize products, especially when the industry is often suffering from shortage of components."
According to Jin, the two R&D centers are likely to play an active role in designing Apple's future iPhones and other hardware.
During his recent trips to China, Cook has held extensive meetings with app developers, highlighting the firm's recognition of China's research capabilities.
China, once Apple's fastest-growing market, has recently become a source of disappointment. In the second quarter, Apple saw a 33 percent drop in sales in China, its greatest decline in all regions.
To lure consumers away from rivals, Apple has filed applications to patent its dual-SIM card technologies in China, which enable one phone to support two carriers at the same time, a feature quite popular among consumers.
Nicole Peng, research director at Shanghai-based consultancy Canalys, said: "As China makes big strides in the internet and information technology, the country has become a trendsetter in many aspects and the analysis of Chinese consumers' preferences and usage habits can now reflect a broader trend among Asian buyers."
masi@chinadaily.com.cn