Food delivery adds spice to Indian train journeys
Passengers on India's vast railway network have long complained of the terrible meals offered to sustain them on long journeys, but a slew of new services that bring fast food to their seats is changing the way they dine.
From Kentucky Fried Chicken to Domino's pizza and a host of local delicacies, train passengers now have access to a vast array of hot dishes - all at the click of a smartphone app.
For passenger Amit V, who ordered a vegetarian curry dish to be delivered to his seat, the new services are a godsend after years of buying railway food that he said was often inedible.
"This food is 100 times better than the railway food," the mathematics teacher said as he prepared to board a train for the 19-hour journey from Mathura, a major rail hub in northern India, to his hometown in the west of the country.
It's a far cry from what was offered just a few years ago, when there were reports of cockroaches being found in dishes, and a leaked internal report said food was cooked in "dirty, smelly and waterlogged pantry cars".
There is also demand for more options, with customers craving international cuisine and fast food as well as local fare.
The new services are part of the modernization of India's state-owned railway network, which carries about 23 million passengers a day.
Last year, the government announced a $137 billion, five-year plan for modernizing that includes introducing free Wi-Fi in some stations in partnership with Google.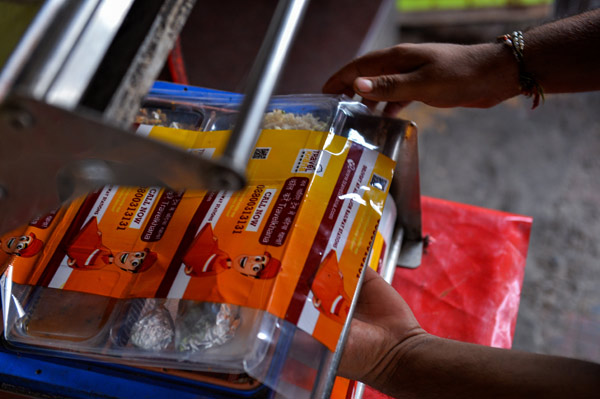 An employee packs food at a local restaurant for delivery in Mathura, India, in August.Chandan Khanna / AFP