Charlotte lifted its midnight curfew, signaling movement toward normalcy after a state of emergency was imposed after the shooting death of a black man by police last week that brought National Guard troops and armored vehicles to downtown street corners.
A weekend without street violence was highlighted on Sunday as the city hosted the NFL game between the Carolina Panthers and the Minnesota Vikings without interruption.
Still, protests continued for a sixth day since 43-year-old Keith Scott was shot and killed on Tuesday after a confrontation with Charlotte police. The first two nights of protests were violent, with demonstrators smashing windows, blocking part of an interstate through downtown, and burning the contents of a tractor-trailer. More than a dozen police officers were injured.
Earlier on Sunday, about 100 demonstrators gathered across the street from Bank of America Stadium before the football game to protest the Scott shooting. They were surrounded by at least two dozen police officers on bicycles.
Video footage police released on Saturday of the Scott shooting incident hasn't settled questions about whether he threatened authorities with a gun before he was felled by a black officer. Police Chief Kerr Putney said Saturday that Scott was "absolutely in possession of a handgun", adding that, while officers didn't break the law, the State Bureau of Investigation continues to pursue the case.
While police said Scott had a gun, residents contend he was unarmed. It's not apparent in the video if he's holding anything shortly before he was shot.
Protests against Scott's fatal shooting were largely peaceful after the dashboard camera and police body-cam videos were released.
"If he had a gun in his hand, I couldn't see it. If he had one, he never raised it," Reda Burch said. "His hands never left his side. So no, I don't see a reason to kill him."
The videos changed the mind of Stacey Sizemore, who said that she worked in human resources for the Charlotte-Mecklenburg Police Department before leaving about six years ago. She said she knows police officers strive to protect the public, but the videos put new doubt into her mind that the shooting was necessary.
"If you're backing up, that's saying you don't want a fight. You don't want a confrontation. So that's the part that, kind of, didn't make it better for me," Sizemore said.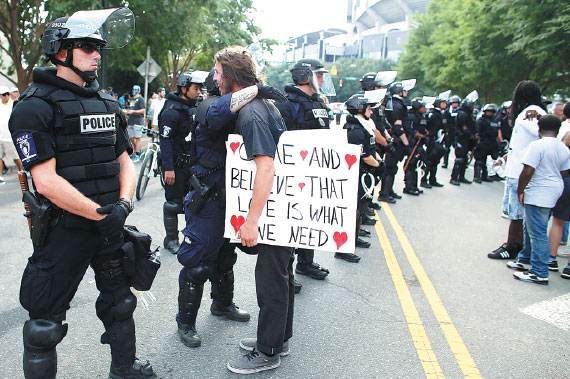 A demonstrator protesting the police shooting of Keith Scott hugs a police officer in Charlotte, North Carolina, on Sunday. Mike Blake / Reuters