Clinton to return; Trump talks child care plan
To resume campaigning after diagnosis of pneumonia; Ivanka Trump plays role
Hillary Clinton will resume campaigning on Thursday following a bout of pneumonia.
Clinton spokesman Nick Merrill said the Democratic nominee spent Tuesday reading briefing material and making calls. She also watched President Barack Obama campaigning on her behalf in Philadelphia.
Clinton had planned to campaign on Wednesday in Las Vegas. Former president Bill Clinton will headline the event in her place.
Clinton was diagnosed with pneumonia on Sept 9. But her campaign didn't disclose the illness until Sunday, after video emerged showing her stumbling and being held up by aides after abruptly leaving a 9/11 memorial service in New York.
Clinton said his wife is "feeling great" as she recovers. He made the comment at a coffee shop in Los Angeles, where he was speaking on her behalf.
Republican Donald Trump said he is ahead of his opponent in pushing out a tax policy aimed at helping working families pay for child care.
At a suburban Philadelphia community center, Trump told several hundred people: "My opponent has no child care plan. She never will. And if it ever evolves into a plan, it'll never get done anyway. All talk, no action."
Trump lately has touted a series of policy speeches, including a reaffirmation of his immigration reform plan. He calls his "a campaign of ideas".
In May, Clinton outlined a policy agenda aimed at lowering costs for working families, including the promise to put child care within reach of all working families.
Ivanka Trump said the struggles of mothers trying to work and care for their children inspired her to help her father craft his plan to make working parenthood easier.
She introduced him by telling an audience in Aston, Pennsylvania, about a woman arrested after leaving her children in her car while she was interviewing for a job.
Ivanka Trump said that the United States needs "to create policies that champion all parents". She acknowledged she is "more fortunate than most" and said that "safe, affordable, good child care should not be "the luxury of the fortunate few".
Earlier Tuesday, Obama scoffed at claims that Trump is favored by working-class voters.
The president told thousands of supporters in Philadelphia that the GOP presidential nominee "wouldn't let you all on his golf course. And now suddenly this guy is going to be your champion?"
The president also noted that Trump has lived a secluded life and mocked the billionaire's ownership of elite properties. Obama said, "Really? This is the guy you want to be championing working people?"
"He's not really a plans guy. He's not really a facts guy," Obama said of Trump.
In Iowa earlier Tuesday, Trump pledged to be "the president of everyone".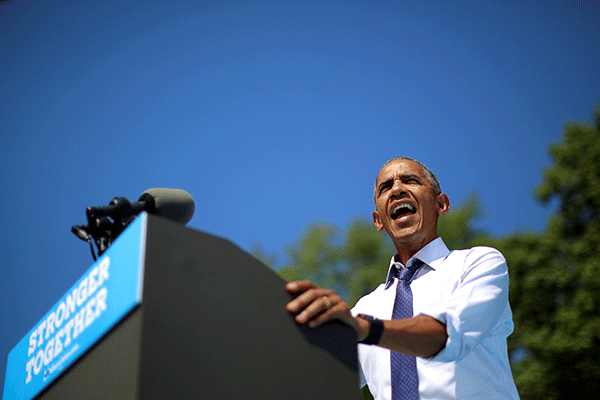 US President Barack Obama speaks during a campaign event in support of Democratic presidential candidate Hillary Clinton in Philadelphia on Tuesday. Reuters / Carlos Barria
Trump was in Clive, Iowa, looking to capitalize on Clinton's declaration that half of his supporters belong in "a basket of deplorables". She later said she regretted the remark and that many of Trump's supporters are hard-working Americans.
Trump hammered the theme that Clinton's remarks slandered his supporters and comes from the same "arrogance and entitlement" that prompted her to use a private email server while she was secretary of state.
He suggested that the email scandal was "worse than Watergate".
In other campaign news, New York Attorney General Eric Schneiderman said his office has been investigating Trump's charity to determine whether the foundation has abided by state laws governing nonprofits.
Schneiderman's comments came hours after House Democrats called for a federal criminal investigation of an improper $25,000 donation Trump's charity made in 2013 to a political group supporting Florida Attorney General Pam Bondi after Bondi's office said it was weighing legal action against Trump University.
Schneiderman is a Democrat and has endorsed Clinton for president.
A Trump campaign spokesman said in a statement that Schneiderman is a "partisan hack" and the investigation is "another left-wing hit job".
Economically speaking, Asia has been an essential partner of America's, but Asian art and culture have not become part of the mainstream of American culture, so there's an imbalance - economically closely interrelated but culturally, Asian culture is viewed as something distant, Xu said.
The museum could play a leadership role in promoting stronger cultural connection and collaboration and serve as a bridge through which the Asian cultures could be more broadly distributed in North America, he said.
"I think a lot of difficulties, not only among governments but more essentially among people, are a result of misunderstanding and a lack of understanding of each other's culture," he said. "Only through closer cultural connection and cross-cultural understanding can economic development become even more prosperous; and politically, I think a lot more common understanding could be achieved."
China's growing prominence on the world stage is leading to an avid interest in Chinese culture in the United States. "That's why we're regularly presenting special exhibitions from China," Xu said.
Next spring, an exhibition of tomb treasures, from a new archeological discovery in China's Jiangsu province, will be brought to San Francisco.
The show will feature the treasures of several kings during the Western Han Dynasty (206 BC-24 AD), the first unified and powerful empires in Chinese history.
"The story is again from the public life to the more intimate tomb and to the details of love and personal habits of the kings," said Xu. "We'll take the visitors through a journey to experience the noble life during the Western Han period."
The public part of the kings' life includes ceramic figures, jades, weapons, chariots and vessels, and then the visitors will be led gradually to the tomb, where they will see huge brass door knockers, and then a magnificent jade coffin, and a jade suit sewn together with gold wire.
In the third room, visitors will see the more intimate part of the kings' life, such as mirrors and belt buckles. The belt buckles were a token of love. Made in two halves - one in relief and the other in recess, the set of buckles become one if you put the two halves together. On the buckles were also inscribed such words as "Forget me not".
The object was discovered in a concubine's tomb. "She must have been deeply in love with the king," Xu said.
Another intriguing side of the Han people's life is that they were particular about hygiene, an important expression of civilization, Xu said. "We have a whole set of baths from (the) tomb, such as bath basins, toilets and rubbing stone."
The exhibition shows that Han people were open-minded; they were passionate about life and pursuing longevity in the next life after death, he said.
Outside of the gallery, the show will highlight a life-sized set of replica music bells. Visitors can try their hands on those music bells and experience what kind of sound the ancient instrument could produce.
"In doing so, we can showcase the great art, great talent and ingenuity of the Chinese and at the same time how advanced the Chinese civilization is," said Xu. "That enables people to better understand today's China. The point is not only to admire the ancient China, but also to have closer and mutual understanding and appreciation (of the modern China)."