Beijing displays charms in DC exhibition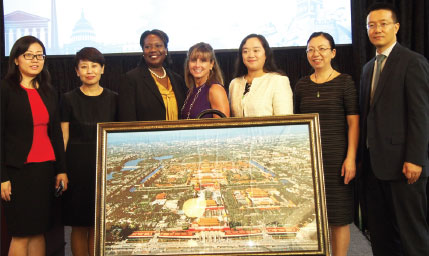 From left: Wang Rui, officer of branding and marketing at the Beijing Municipal Commission of Tourism Development (BMCTD); Li Xiangying, deputy district mayor of the Shunyi District Government; Karima Woods, director of Economic Development and Strategy at the Office of the Deputy Mayor for Planning and Economic Development of Washington; Theresa Belpulsi, vice-president of tourism and visitor services at Destination DC; Yu Ning, minister counselor at the Chinese embassy; Wang Yue, vice-chairwoman of BMCTD; and Lu Chuan, director of branding and marketing at BMCTD, at the unveiling ceremony of the Charming Beijing photo exhibition at Union Station in Washington on Tuesday. Yuan Yuan / For China Daily
Charming Beijing, a four-day photo exhibition displaying some 100 photos of the city's tourist attractions, opened Tuesday at Union Station in Washington.
The show, which features six distinctive themes of the ancient capital city, is being presented by the Beijing Municipal Commission of Tourism Development (BMCTD) to celebrate the 2016 China-US Tourism Year and the Beijing-DC sister city relationship, which was established in 1984 and renewed in 2015 during the first China mission for Mayor Muriel Bowser of the District of Columbia.
"A record 273 million people visited Beijing in 2015," said Wang Yue, vice-chairwoman of BMCTD, "bringing an estimated $68.7 billion in revenue and 7.6 percent growth from the year before. Among the fastest-growing groups of tourists (are) from the US, who accounted for 694,100 visitors last year."
"Beijing's outbound tourists to the US have also increased significantly from 185,000 in 2014 to 260,000 in 2015, a 40.2 percent growth," Wang said.
"Many of them have had the opportunity to visit the beautiful Washington DC, a sister city of Beijing, and our strongest global partner in tourism development."
According to statistics released by the National Travel and Tourism Office and the US Department of Commerce, an estimated 2 million Americans have visited China annually in recent years.
In 2015, 2.5 million Chinese traveled to the US, a 20 percent increase over the previous year, and spent $24 billion traveling to US cities, national parks and other destinations.
"China remains our number one inbound overseas market, which is fantastic," said Theresa Belpulsi, vice-president of Tourism and Visitor Services at Destination DC. "We just reached an all-time high, over 300,000 Chinese visitors coming to Washington DC, and what's even more fantastic is that this is a 36 percent increase over last year.
"This is the fifth year in a row that DC (had) double-digit increases from China," Belpulsi added. "This is absolutely because of the wonderful relationship that we formed (with) China.
"One out of every nine Chinese visitors that come to the US comes to Washington DC," she said. "Now we have two flights coming from Beijing, so anyone else who wants to bring in another flight, we are more than happy to welcome it to Washington DC to keep this number growing."
A booming tourism market also brings trade opportunities.
"In 2012, the District of Columbia opened an international trade office in Shanghai, and we also opened our second international trade office in 2014 in Beijing," said Karima Woods, director of the Economic Development and Strategy Office of the Deputy Mayor for Planning and Economic Development.
"As the result of opening these two offices, we've been able to take a number of DC's businesses in addition to colleges and universities on trade missions to China," Woods said.
"Tourism has become increasingly important in the economy," said Yu Ning, minister counselor at the Chinese embassy in Washington. "And besides its economic functions, it connects two cultures."
Globalization includes not only capital flows but also personnel flows.
"It's harder for your guest to become your enemy," Yu said.
Yuan Yuan in Washington contributed to the story.
leshuodong@chinadailyusa.com