Fashion and culture draw Chinese tourists to Italy
Major cities offer plethora of shopping options, and a healthy dose of romance
Italy has long been a favored European destination for Chinese tourists, lured by its rich history, unique culture, high-end fashion and availability of luxury brands.
Driven by the 2015 Milan World Expo, the number of Chinese travelers to Italy reached its zenith last year, with 3.3 million arrivals, a 45 percent increase from the year before, making China now the fourth most important inbound market for Italy, after Germany, the United States and France, according to the Italian National Institute of Statistics.
Countries such as Italy offer what Chinese tourists are looking for, said Alastair Morrison, former president of the International Tourism Studies Association and CEO of Belle Tourism International Consulting. He cites as examples "art and culture of historic cities like Rome and Florence; romantic destinations such as Venice and Verona; fashion and luxury shopping in Milan."
He suggested the country capitalize on the fame and recognition factor of Marco Polo in China.
Morrison's view is echoed by Raffaella Rossi, director of Francesco's Ways, a consortium of businesses whose objective is the international promotion and marketing of a new Italian tourist product - the Pilgrims' Paths - saying "the 'Italy' product corresponds perfectly to the curiosity and desire for discovery typical of Chinese tourists."
However, she believes Italy as a country is diverse and its heritage is not limited to the beauty of its landscape or its artistic and historical wealth.
"We must introduce tourists coming from China to our great food and wine, numerous crafts and shopping areas, as well as the small towns in different regions, romantic places where they can experience slow tourism and come into contact with untouched nature. We need to enrich our proposal of special and thrilling experiences that can spark the interest of this clientele," she said. Rossi contends that the new tourist product such as the Pilgrims' Paths responds to the needs of tourists, including Chinese travelers, because it offers a large variety of experiences through places that are not well known to the general public.
Cao Bo, 56, from Hangzhou, China, who visited Italy in 2014 with her daughter, said: "I have always been fascinated by Italy, a country infused with culture, history and romance. The St Peter's Basilica, the Colosseum, the Vatican Museums, the water-surrounded city Venice, and the scene of Audrey Hepburn sampling ice cream in the movie Roman Holiday, many of which are the reasons that attracted me to visit the country."
In 2014, Chinese tourists spent 468 million euros ($569 million) in Italy, according to the Bank of Italy. In a bid to further strengthen economic ties between the two countries, that year the Italian government signed a bilateral police cooperation agreement with China, the first of its kind between China and a European country.
So, a small group of Chinese police officers patrolled the streets of Rome and Milan this May alongside their Italian counterparts.
Following the recent terrorist attacks in France, Belgium and Germany, Chinese tour operators and Italian host companies have seen a sudden surge in the number of Chinese people traveling to Italy in the past months, said Wolfgang Arlt, director of China Outbound Tourism Research Institute.
But Arlt added: "Memories are short, there have been terrorist attacks on trains and subway in Spain and London, nobody remembers anymore. I think travelers will come to the conclusion that some risk is everywhere, so it does not matter where they travel."
To deeply tap into the Chinese market, however, Rossi believes the biggest challenges are unquestionably the creation of a more appealing product for the Chinese market.
wangmingjie@chinadaily.com.cn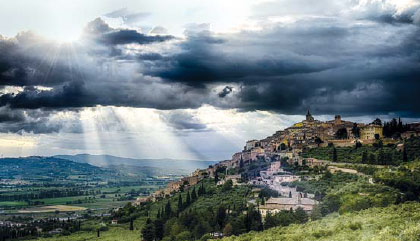 Overview of Trevi, an ancient town in Umbria, Italy. Photos Provided to China Daily