Governments use Toutiao app to communicate with the public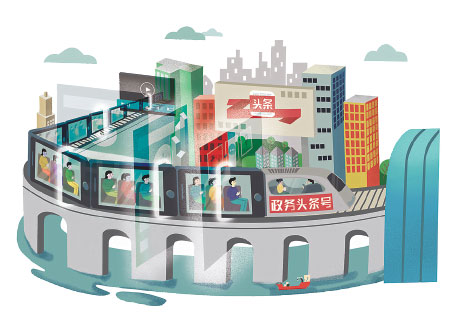 More than 20,000 smartphone-enabled government information platforms had, by the first half of this year registered for headline news services via Toutiao.
Toutiao, the popular Chinese content aggregation app, aims to expand the governments' reach in the rapidly-developing sector.
The app launched services to provide headline news for various government information platforms less than two years ago. A total of 1 million stories have since been published for the public by such platforms, including those from the Ministry of Public Security, the Supreme People's Court and the Zhejiang government, generating 4 billion readings through the Toutiao smartphone app.
These activities have created 42 billion recommendation readings targeted at different users. That means more than 6,000 stories have been released by government-run information platforms every day, with each story recommended to an average of 42,000 readers daily.
Zhang Yiming, founder and CEO of ByteDance, the developer of Toutiao, graduated in 2005 from Nankai University in Tianjin. Zhang said more local intelligent information sorting systems have started to take on a bigger role in sending news to users who are willing to learn more about public sector work such as government policies, fiscal reports, legislative decisions and announcements of infrastructure projects.
The news services are the result of moves made by authorities to provide pertinent public information via government portals and websites, in response to growing public interest in major issues since the end of 2014.
Efforts are being made to increase government transparency and expand the application of e-government and online administration, and to improve government efficiency by using new media to respond to social concerns and provide more information on public sector work.
Toutiao stands out among news apps because it can remember and track important user data such as their preferences, comments, location and length of time spent on each page, and to record their interests and provide different news to different users based on those interests. Government information platforms at different administrative levels are willing to partner with the company to enlarge their influence.
"The advantage of our machines and big data technologies is that their memory is precise and they never get tired. On the other hand, the human brain's advantage is in cross-field judgment," Zhang said.
"The key to artificial intelligence is actually human. To allow technology to play an active role in the flow of information, one premise is that there must be someone producing valuable information; so we welcome government branches to access it, using it as a platform for publicizing authoritative news," he said.
"For example, we confirm every piece of medical news with the hospital concerned or the National Health and Family Planning Commission."
The company has more than 2,600 employees and more than one-third of them are engineers. It has about 15,000 servers in its network processing 200 TB a day.
Unlike Weibo, a Twitter-like service in China, government information services in Toutiao do not need to develop a fan base and subscription details, as the information can be effectively sent to users' smartphones.
Extremely important information, including major clarifications on public issues and updates on health epidemics and natural disasters, can also be sent through automatic pop-up services to the users. This function has an important role of providing the timely dissemination of authoritative information, to prevent the spread of potentially harmful rumors.
Ma Baocheng, director of the Decision-Making and Consultation Department of the Chinese Academy of Governance said that highly efficient communication tools and cutting-edge technologies are critical to the government's efforts to provide better services and information.
"Under such circumstances, Toutiao is moving in a promising direction. Big data, a broad term for processing vast amounts of complex statistics, which can be boiled down into market and consumer trends, will be vital in working out the right strategy," Ma said.
zhongnan@chinadaily.com.cn