Performance is in stark contrast to disappointing results of other two majors
China Petroleum and Chemical Corp has outperformed domestic rivals in terms of first-half profits as its refining business helped it to endure the worst turmoil in the oil industry.
The state-owned enterprise, known as Sinopec, announced profits of 19.25 billion yuan ($2.88 billion; 2.57 billion euros), down 21.3 percent year-on-year, while revenues fell to 879.2 billion yuan, according to a filing to the Hong Kong Stock Exchange on Aug 28.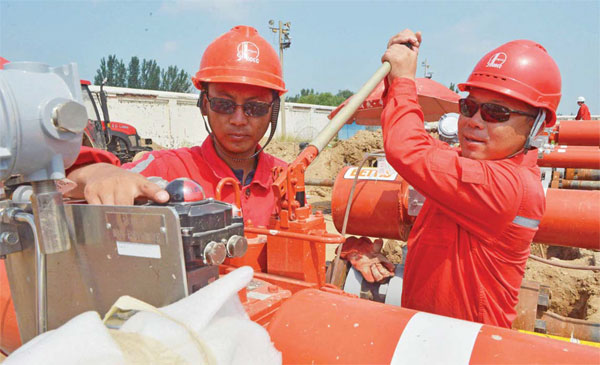 Sinopec workers install pipes in Puyang, Henan province. Tong Jiang / For China Daily
The first-half result was a sharp contrast to the performance of China's other two oil majors, China National Petroleum Corp and China National Offshore Oil Corp.
PetroChina Co, the listed-unit of parent company CNPC, saw its net income drop to 531 million yuan, a 98 percent decline and the smallest half-year profit since it was publicly listed in 2000, as the crash in oil prices continues to drag on earnings.
At the same time, CNOOC's listed arm, CNOOC Ltd, saw a 7.74 billion yuan loss in the January to June period, compared with a net income of 14.7 billion yuan a year earlier, mainly from a charge on the value of its Canadian oil sands assets.
A slump in crude prices benefits fuel makers like Sinopec as their supply costs fall, although the company is still vulnerable to the collapse because it's the country's third-biggest oil and gas producer, experts say.
"Sinopec continues to be a defensive play among China's Big Three oil companies as its huge refining exposure puts it in a good position to benefit from a low crude price environment," Gordon Kwan, head of the Hong Kong-based Asia oil and gas research at Nomura Holdings Inc, was quoted as saying by Bloomberg.
He attributes the performance to the Sinopec management's decision to expand refining incomes while containing crude losses. Sinopec's refining business earned 32.6 billion yuan, more than double in the same period last year.
The petrochemical business reported a profit of 9.7 billion yuan, down 3.8 percent over the past year, the financial report says.
During the first half of the year, Brent crude, the global benchmark, had an average price roughly 30 percent lower than in the same period last year, roiling global oil firms.
Prices have whipsawed this year, flipping five times between bear and bull markets, as production from nations outside the Organization of Petroleum Exporting Countries, including China and the US, declines in the wake of a price crash that began in 2014.
"The three oil companies will continue to see profit declines in the next half of the year, but at a slower rate, given the moderately growing oil price," says Gao Jian, an oil analyst at commodities consultancy Sublime China Information Co Ltd. But he projected all three oil majors will further cut the output of their upstream business, and expand downstream operations.
Sinopec cut capital expenditure in the first half of the year by more than 40 percent from the same period in 2015 to 13.5 billion yuan. PetroChina's fell 17.5 percent to 50.9 billion yuan, while CNOOC's spending for the period dropped 33 percent to 22 billion yuan.
Contact the writers through lvchang@chinadaily.com.cn