Deal opens door to Alipay in Europe
Alibaba teams up with French online payment company Ingenico to push brand in advanced, and often tough, markets
There is a heat wave right now across most of mainland Europe, but Alibaba's latest expansion venture may soon add to the red-hot, febrile feeling across the continent.
The ink is still not dry on the sizzling deal between Alipay, Alibaba's online payment service, and Ingenico, the French in-store and online payments service.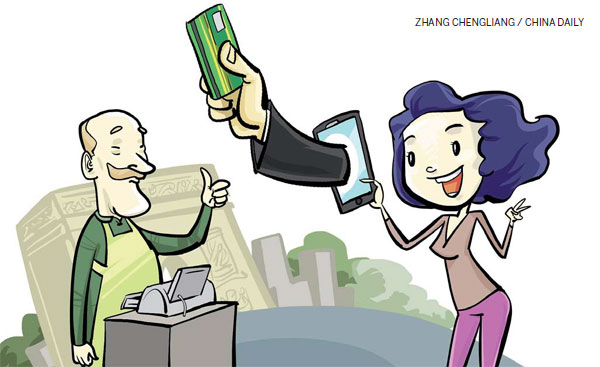 Ingenico has a presence that extends well beyond Europe, and with this deal it will soon be possible for Chinese tourists and visitors to use Alipay at retailers, restaurants, bars, theaters, cinemas, and many other venues across Europe.
This possibly marks a defining moment in Alibaba's international expansion, and the same may also be said about global market penetration plans across Chinese industry generally.
Only a year or so ago, Alibaba appointed country managers for major European markets, which was a shrewd move. But going one step further in negotiating a partnership with an established and respected European company, it appears that Alibaba's international market penetration strategy has now been thought through fully and wisely.
The more lucrative, but also more competitive markets across mainland Europe offer huge opportunities for Alibaba, given the continued increase in Chinese outbound tourism. While many Chinese tourists still prefer destinations closer to home such as South Korea, more have the purchasing power and thirst for adventure and are seeking tours in Europe, in particular in France, Italy, Switzerland and Germany.
Last year, 120 million Chinese tourists traveled overseas, spending a total of $104.5 billion. These numbers represent a 12 percent increase in the number of outbound tourists and a 17 percent increase in expenditure.
Germany, with its more relaxed visa requirements, is proving a major attraction, with 1.7 times the number of Chinese visitors increasing year-on-year.
Clearly, there is an attractive and growing market opportunity here for Alibaba.
Chinese outbound tourism is still relatively new, especially where European destinations are concerned. Hence, European retailers and other tourism venues are unaware of this phenomenon and must learn quickly about the needs and changes in the typical Chinese tourist in Europe. Alipay's usage will expedite this learning process.
French payments processor Ingenico can also make use of this partnership with Alipay to offer Chinese merchants its advanced payment-processing services.
Clearly, Alibaba's choice of partner is a shrewd move, but challenges lie ahead, too. Technical and legal barriers remain as well as the perhaps more serious cross-cultural challenges that so often result in a far less than satisfactory working relationship.
Can Alibaba cement a lasting, mutually beneficial working partnership with the French partner? Only a few years ago there would have been far more pessimism than optimism, but more recently Alibaba's senior management have shown far more management maturity and a clear structure and strategy appears in place to penetrate the most competitive international markets.
Jack Ma's barnstorming, bombastic approach appears to have been replaced by modern, rational and analytical analysis of key international target market opportunities.
But what about the competitor threat? Ingenico terminals across Europe already accept payment via apps such as Android Pay and Apple Pay. While these threats are not to be underestimated, one need look no further than the 450 million or so active Chinese consumer base that Alipay has formed relationships with.
Alipay's brand awareness and image with Chinese consumers visiting Europe will therefore present a formidable challenge to the most entrenched competitors, including Apple.
The annual number of Chinese tourists visiting Europe, already well in excess of 12 million, is increasing more than 10 percent year-on-year, and their spending is increasing at an even faster rate.
European merchants should be keen to promote this Alipay-Ingenico partnership, as they will benefit immensely. Retailers, restaurants and bars, and many other tourism venues, should seize this opportunity to work with Alipay more, and in so doing collect as much consumer information as possible to build a picture of this different type of international tourist.
So Alipay's competitive advantages appear significant, but perhaps most important of all is Alibaba's plan to extend its Alipay app in Europe. Not too dissimilar to the array of services offered by Tencent's WeChat app, Alibaba plans to allow Chinese tourists to use the Alipay app to search for nearby restaurants, bars and theatres while traveling around mainland Europe.
Chinese tourists are well aware of the major sights in European cities such as Paris and Rome, but they are often aware of little else. If Alibaba's plan comes to fruition - and according to Ingenico, it should materialize in a matter of months - Chinese tourists will find the Alipay app an invaluable source of information on top of being a convenient payment service.
Alibaba's competitiveness across Europe could also be strengthened if more European consumers make use of their payment and information services via Ingenico terminals. This has already begun with the international expansion of WeChat, which an ever-increasing number of non-Chinese consumers are using on a regular basis.
Finally, and most important, Alibaba can take confidence from the increasing number of Chinese companies now penetrating European markets purposefully. These trailblazers, such as Huawei Technologies and Lenovo, have already led to significant changes in the perception of Chinese companies and their brands.
As a result, Chinese technology and internet brands are more trusted internationally and are fast-becoming household names with robust brand strategies.
Alibaba and Alipay therefore will not face a huge brand awareness challenge across the most advanced market economies in Europe. Germany has proved an impregnable fortress for many international brands over the years, but Huawei and Lenovo are both highly respected there now. Alibaba and Alipay will build on the groundwork firmly in place across Europe by such Chinese companies.
The European road ahead for Alibaba is not at all smooth, but with an excellent choice of partner in Ingenico, already large numbers of Chinese tourists visiting Europe, and growing trust in China's tech and internet sectors, the chances of substantial and sustainable success are high.
The author is a visiting professor at the University of International Business and Economics in Beijing and a senior lecturer at Southampton University. The views do not necessarily reflect those of China Daily.