China's KHL expansion team primed for season-opener
If Kunlun Red Star's August adventure was a preview of what's to come, Beijing hockey fans could be in for a wild ride over the next six months.
China's expansion entry in the Kontinental Hockey League opens its 60-game regular season on Thursday night in Kharbarovsk, Russia - three weeks after being involved in one of the most bizarre episodes in KHL history.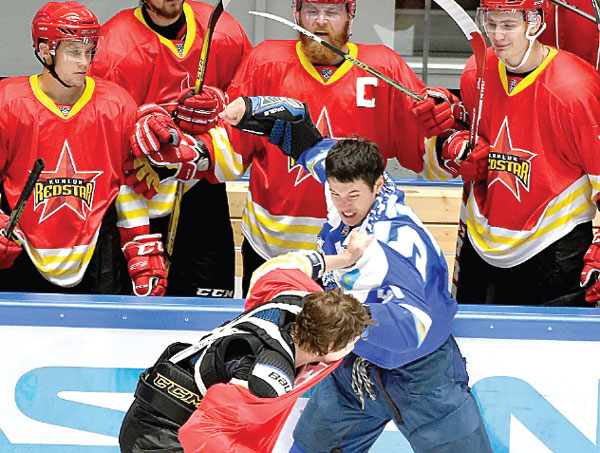 Kunlun Red Star players watch from the bench during a preseason brawl against Barys Astana. Beijing-based Red Star debuts in the Kontinental Hockey League on Thursday. Provided to China Daily
On Aug 5, Red Star defeated Barys Astana 3-1 in a fight-filled exhibition game ahead of the President of Kazakhstan's Cup preseason tournament. Nearly 200 penalty minutes were handed out in the wake of brawls that erupted after Barys forward Dustin Boyd was injured on a clean check.
When the two clubs met again in tournament play on Aug 8, the game was suspended after just three minutes thanks to a wild rampage by Barys defenseman Damir Ryspayev that earned the 21-year-old Russian a lifetime ban from the league.
Shortly after the opening whistle, Ryspayev KO'd Kunlun's Tomas Marcinko with a sucker punch, then pummelled three other Red Star players before challenging the entire Beijing bench.
Marcinko, a Czech, sustained a concussion from the punch, and after Red Star appealed for a league inquiry, KHL president Dmitry Chernyshenko wasted little time in meting out punishment.
"In hockey there has always been space for a fair fight between equal opponents under the principles of fair play. But in hockey, as in any other professional sport, there can be no place for the outright violence displayed by Damir Ryspayev in the game against KHL newcomer Kunlun Red Star," said Chernyshenko.
"We are constantly working to attract a new audience and broaden the game's geographical reach, and Ryspayev's behavior is not merely harmful in a sporting context, it also blackens the image of our league. We could not allow this incident to go unpunished, so we have taken this decision."
Marcinko's spot on Red Star's 24-man roster remains open, but the team's Russian coach, Vladimir Yurzinov Jr., can take solace in knowing he has a veritable United Nations of talent remaining: seven players from Finland, four from each of China, Canada and Russia, an American, a Swede, a Frenchman ... and another Czech.
The Chinese entry brings KHL membership to 29 teams in eight countries: Russia (22), Belarus, Kazakhstan, Latvia, Slovakia, Finland, Croatia and China.
Red Star's home games will be played at the 18,000-seat LeSports Center, with the debut puck-drop set for Sept 5, against Admiral Vladivostok.
The Beijing squad's homegrown talent is headed by 18-year-old Ying Rudi, the first Chinese-born player signed to a KHL contract.
The 6-foot-1, 190-pound center played youth hockey in the capital before moving to Chicago at age 9 to join an elite minor program.
Ying played two seasons at a New York prep school and then signed with the Toronto Patriots of the Ontario Junior Hockey League.
He represented China and was named an All-Star at the 2014 IIHF U-18 world championships (division II), notching five goals and two assists in five games.
Ying again led Team China in scoring at the 2015 U-18 world tournament, and was named captain of this year's entry.
"I'm Chinese and my dream is to play for my country," Ying said on the KHL website after signing with Red Star on Aug 16.
"I have had the chance to play for China at three world junior championships and I was even made captain, which makes me very proud.
"Now I have to get on the senior national team and help it perform well at the Winter Olympics. That is the main dream in my life."
Kunlun Red Star is captained by Janne Jalasvaara, a Finn who won two KHL Gagarin Cup titles with Dynamo Moscow.
murraygreig@chinadaily.com.cn