'Mission will be accomplished in 2020' says program chief as China explores skies and seas
China unveiled the design of its Mars probe on Aug 23, hours after announcing that one of its unmanned submersibles had dived to a depth of more than 10,000 meters under the sea.
The Mars probe will consist of three parts - the orbiter, the lander and the rover, according to design illustrations released by the China National Space Administration.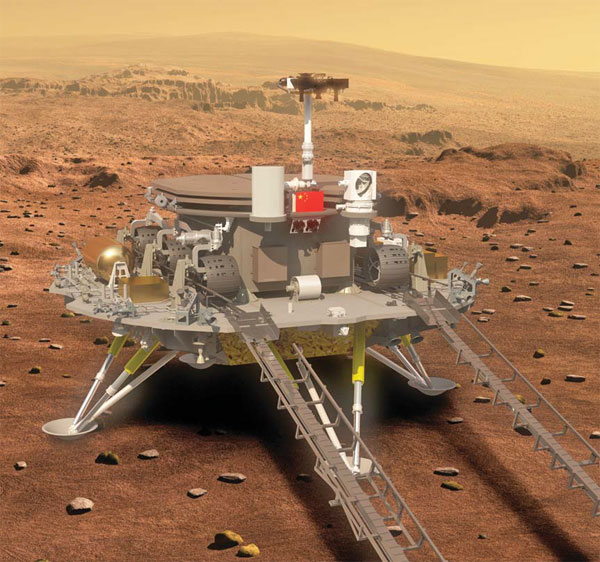 An artist's impression of the Mars probe including lander and rover. Provided to China Daily
The rover will have six wheels and four solar panels.
The nation plans to send an unmanned probe to Mars to orbit and land on the planet around 2020, Liu Jizhong, deputy head of China's Mars exploration program, said at a ceremony to reveal the probe's design.
He said the Mars mission is on schedule, with Chinese scientists having completed their technological preparations and finalizing the probe's design.
"We have begun to produce the probe's subsystems. The mission will be accomplished in 2020 without delay," Liu said, adding that the favorable launch time for a Mars mission appears every 26 months, so there will be three such opportunities before the end of 2020.
While the nation has been looking at exploring the unknown universe, Chinese researchers have not been ignoring the oceans.
This makes China the third country after Japan and the United States to have built submersibles capable of reaching depths of more than 10,000 meters, the academy says.
Speaking about the Mars mission's difficulties and challenges, Zhang Rongqiao, the program's chief planner, says the farthest distance between the Earth and Mars is about 400 million kilometers, so it will take the probe nearly seven months before it reaches the Martian atmosphere.
The orbiter will then release the lander and the rover and continue to orbit Mars to survey the planet. The lander will soft-land on the Martian surface and deploy the rover. The entire process will require good communications among each craft and between them and Earth, Zhang says.
Sun Zezhou, chief designer of the probe, says there will be many uncertainties during the landing process and the Martian surface will be more "sophisticated" than that of the moon.
The rover will weigh about 200 kilograms, carry 13 scientific instruments and will work for 92 days on the planet, he says.
Sun says China will also send a probe to Mars around 2030 to take samples and return to Earth.
Since the 1960s, 43 probes have been sent to Mars, but only 22 accomplished their missions, according to the China National Space Administration.
zhaolei@chinadaily.com.cn