Ancient temple's kung fu camp for African students enters its fourth year
Ngalle Emmanuel stands on stage in the traditional gray robes and canvas shoes of a Shaolin monk. He takes a deep breath, and then with a scream launches into a flurry of rapid-fire punches.
The 29-year-old from Comoros has lived and studied at the Shaolin Temple, the ancient home of Chinese kung fu, for four years.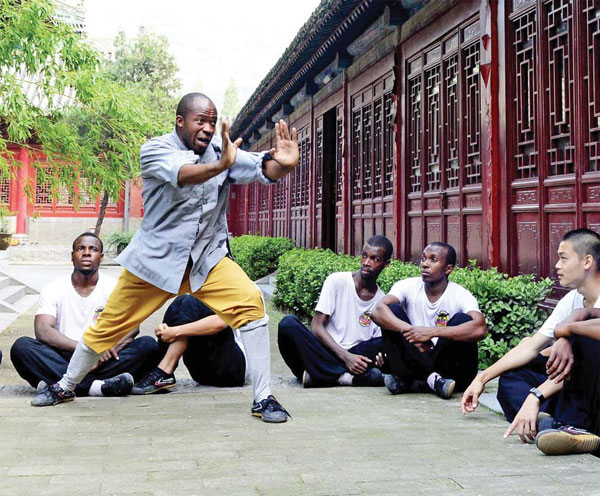 African students watch each other's kung fu performance. Feng Dapeng / Xinhua
"The important thing I've learned is not to be afraid of hardship. The more you practice, the better you will be," he tells his audience at the 1,500-year-old Buddhist temple in Central China's Henan province.
Listening intently is a new class of 20 students from Africa.
The Ministry of Culture launched a Shaolin training program for Africans in 2013 as part of efforts to strengthen cultural exchanges. Eighty students from more than 15 countries have taken part, with classes running for three months.
Amadou Lamarana Bah, 28, was in the audience at the welcoming ceremony for the new class on July 6. A former bodyguard from Conakry, the capital of Guinea, he says it is his dream to study with Shaolin monks.
"Going to the birthplace of kung fu is meaningful," says Bah, who has studied martial arts for eight years. "Some moves (in Shaolin kung fu) are a little different from what I learned before. Most importantly, we also learn about qigong," he adds, referring to a system of traditional breathing exercises.
In addition to various techniques, the students are also taught about meditation and given Buddhist principles to guide their actions.
"We have a kung fu test each month. Plus, to help the students gain a greater understanding of China, they are offered courses in Mandarin and Chinese medicine," says Shi Yankang, the head of the African training program.
Li Sheung Ying Kiat How, 20, a university student from Mauritius, is also part of the new class. He says training involves six hours of kung fu a day, plus running, stretching and climbing.
After the first week, he says, "I almost couldn't feel my legs. But I feel like my legs are growing full of energy day by day.
"Kung fu is part of the Chinese culture," he adds. "I want to learn the most I can before I leave the temple, and to let all my friends see the changes. We should all follow the discipline of Shaolin."
Shi Yanya, a master at the temple, says teaching the students about meditation helps with their training and their mental state.
"Africans are strong and have excellent physical fitness, but they need to build endurance, to keep still while doing the actions," he explains. "Learning kung fu is not something you rush, it requires patience and persistence."
The lessons have long-term effects, too, according to earlier students.
Peace Emezue was part of the first class in 2013 and is now a personal trainer in Nigeria. She says living with the Shaolin monks changed her life.
Although it was a tough transition at first, the 35-year-old recalls the monks' simplicity, discipline and encouragement. "I learned humility, good conduct, and how to be appreciative," she says. "My experience there worked on my personality. I'm a lot calmer, patient, and I've learned how to be serious with my work. It's an experience no one can take from you."
Sadow Sow, 28, a journalist from Conakry, says he plans to teach kung fu when he returns home after completing this year's program.
"I also plan to share my stories with readers through the media, focusing on learning Shaolin kung fu," he says.
Si Hongyu, an associate professor of physical education at Zhengzhou University, says Shaolin kung fu has an important role in Chinese martial arts, as the temple has integrated the wisdom of Zen Buddhism and traditional Chinese medicine to create a cultivation process that is good for mind and body.
"It has a value in culture, health, aesthetics and philosophy, in improving one's psychology, and promoting international cultural exchanges," he says.
Contact the writers through qixin@chinadaily.com.cn