Ghana is using its long-standing relations with the China to court investors, and is looking for guidance in the ways China lifted millions of people out of poverty over three decades.
Beyond the West African country's raw materials and its political and economic stability, it is also counting on the strength of its human resources as a catalyst in attracting needed investment.
The Chinese companies that have invested in the country include HNA Holding Co Ltd, Jiangxi Zhongmei Engineering Construction Co Ltd, Henan International Group Ltd and Jiangxi Nonferrous Engineering Ltd, among others.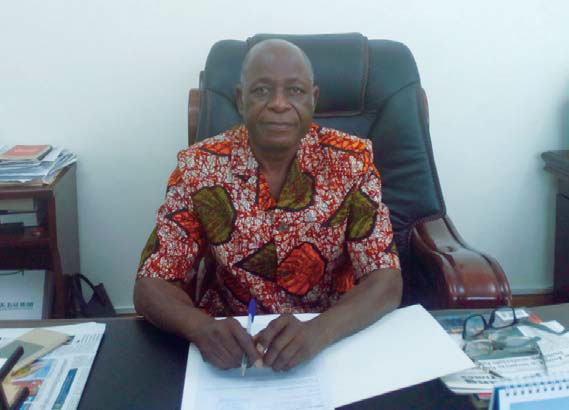 Ghanaian Ambassador to China Anani Demuyakor says the interest of China's business community in the Ghanaian economy keeps increasing. David Yarboi-Tetteh / For China Daily
Ghanaian Ambassador to China Anani Demuyakor, who recently led a team of Chinese investors to Ghana, explains in an interview that the interest of China's business community in the Ghanaian economy keeps increasing. But he is quick to add that the emphasis tends to be tilted toward trade.
He says most of the investors he accompanied to Ghana expressed their interest in investing, but the embassy has yet to receive a response from them.
"Maybe they are waiting for the outcome of Ghana's presidential and parliamentary elections scheduled for Dec 7 this year," he says.
But he lauds the investment of Hainan Airlines in forming a partnership including Ghanaian entities in the establishment of Africa World Airlines, a Ghana-registered private company operating in West Africa, as well as investments by other Chinese companies.
Africa World Airlines Ltd is a joint venture between HNA Holding Co Ltd, the China-Africa Development Fund, and their Ghanaian counterparts, the Strategic African Securities Finance Group and Social Security and National Insurance Trust.
"Chinese entrepreneurs must shift their interest in finding markets for their products and focus toward more foreign direct investment in a bid to boost the production capacity in Ghana to get the desired results" he says.
The emphasis on trade, he notes, must be commensurate with the establishment of industries in Ghana and the African continent in general.
He says he is hopeful that engagement between the two countries will enhance technological transfers.
"Our youth have to avail themselves and learn from the Chinese in order for our country to get the needed transformation" he says.
"We cannot afford to be left behind in this era of development as such a move would be to the disadvantage of Ghana."
Seth Terkper, Ghana's minister of finance and economic planning, lauds the support of China in his nation's development drive. He notes China's support in extending credit as well as grants in building strategic infrastructure to achieve the desired transformation.
Terkper was interviewed at the end of July, when coordinators from the Forum on China-Africa Cooperation met in Beijing. They were following up on the Johannesburg summit in December, when Chinese President Xi Jinping pledged $60 billion in development aid to Africa.
Relations between the two countries date back to 1960, when the People's Republic of China and the Republic of Ghana established diplomatic relations.
Experts say that as Ghana intensifies its poverty reduction and development strategies, it can take a leaf from the reform and opening-up policy that China adopted in 1978 to steer its economy away from central planning.
China has lifted more than 600 million of its citizens out of extreme poverty since then. It also has intensified the fight against poverty because of the disparity in how sectors of the population have benefited from development and economic growth, with rural and ethnic minority areas lagging behind.
African countries can learn a lot about fighting desertification and poverty from programs such as those of the Ningxia Hui autonomous region in northwestern China. The region, one of China's poorest and driest areas, has instituted poverty alleviation measures, educational support and help for citizens to improve their housing.
The Ningxia Lingwu Baijitan Nature Reserve Zone, an arid ecosystem at the edge of the Maowusu Desert, shows how Ghana and other African nations can implement an effective forestation program. They include closing the land for reforestation and comprehensive management of small watershed areas.
For China Daily