Over the next two years, grounds crews in St. Louis will cut down nearly one out of every five trees, altering the US city's leafy landscape for at least a generation.
St. Louis is the latest victim of the Emerald Ash Borer, an Asian beetle smaller than a penny, which emigrated from China via shipping materials and is destroying millions of trees in North America.
The insect targets the Ash tree - a common variety in Midwestern cities, where the tree can survive cramped sidewalks, harsh winters and road salts used to keep streets clear of ice and snow.
In St. Louis, city forestry commissioner Skip Kincaid is tasked with dealing with the invasive pest and the destruction it is expected to cause in the next few years.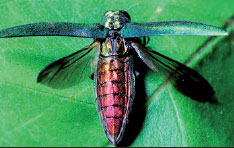 St Louis is being invaded by the Asian beetle. Provided To China Daily
"I'm trying as best I can to enlighten the public about how devastating it is going to be," Kincaid said.
To head off the Emerald Ash Borer's advance, Kincaid will cut down almost all of the city's 14,000 Ash trees - or roughly 17 percent of all trees - over the next two years.
Scientists have discovered a pesticide treatment that can keep the insect from killing trees. But Kincaid said that wasn't an economically feasible solution, as it must be repeatedly applied every other year.
Only 1,000 made the cut. The rest will be removed and replaced with a variety of species, but it will be years before they reach the size of the Ash trees.
"This is something where quite honestly, we really have no other choice," Kincaid said.
Noel Schneeberger, a US Forest Service expert at the forefront of the beetle battle, says once the Emerald Ash Borer infests an Ash, the chances of it surviving are basically nil.
"In terms of targeting a single genus of trees, it's pretty devastating," Schneeberger said.
Scientists estimate that about 30 million trees have already succumbed to the beetle, and by the time its path of destruction concludes, hundreds of millions more will be dead, brittle, and ready to fall during a storm.