Dalian prepares to set sail as key cruise liner port
The Dalian Port International Cruise Liner Center on China's east coast is expected to be handling 200,000 passengers a year by 2019, a senior official has disclosed.
Royal Caribbean International's Legend of the Seas, carrying about 2,000 tourists, left Dalian for Sasebo and Kagoshima in Japan on July 20, marking a new port of departure for international cruise liners.
"With the opening of the Dalian center, tourists from Northeast China will take cruises from Dalian," says Zhang Tie, general manager of passenger transport company Dalian Port Group.
Zhang says that after this trip, Legend of the Seas will embark on another three voyages from Dalian. MSC Cruises' Lirica is also scheduled to depart from the port for five trips in August.
Dalian Port Group started construction of the center in October. Aside from a newly completed berth with a capacity of 70,000 metric tons, another berth of the same size and two 150,000-ton berths are under construction.
According to Liu Wei, who is in charge of construction, the berths will become operational in 2017.
She says the terminal hall, which can handle customs clearance for two 225,000-ton cruise liners at the same time, will be completed by 2020.
Dalian Port Group signed a strategic cooperation framework agreement last month with the local port and tourism authorities and with Royal Caribbean Cruises Ltd.
According to the deal, they will jointly promote Dalian's cruise sector and build it into a cruise port in northeastern Asia.
Liu Bin, an economist at Dalian Maritime University, says many cities in China, including Guangzhou, Qingdao and Shanghai, are building cruise ports.
Major international cruise companies are working hard to enter the Chinese market.
"It's a good choice to cooperate with international companies. They have experience and lots of resources," he says. "But the management and service quality need to be improved."
Dalian was one of China's first ports to accept visiting cruise ships. In the past decade, Dalian has received a dozen cruise liners annually.
zhangxiaomin@chinadaily.com.cn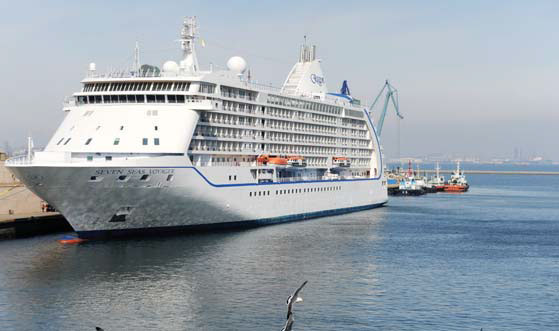 A cruise ship from the US arrived at Dalian Port in February. Lyu Wenzheng / For China Daily