COFCO shake-up gains pace
Food giant says it will establish 18 specialized companies while it cuts departments and staff at headquarters
State-owned China National Cereals, Oils and Foodstuffs Corp, the country's biggest food trader, on July 18 announced further moves to streamline its operations, saying it would establish 18 specialized companies.
It says these companies will be responsible for its grain, sugar, edible oils, meat and other agricultural commodity businesses.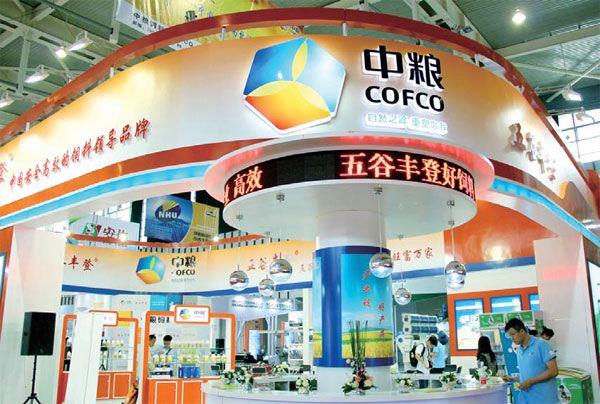 China National Cereals, Oils and Foodstuffs Corp at a Nanjing feed industry show. Wang Luxian / For China Daily
COFCO also says the group's headquarters will cut the number of its departments from 13 to seven and Beijing's head office staff numbers will be reduced from 610 to 240. The company says it will give the remaining departments more autonomy in such areas as research and development, human resources and production.
But it says its listed subsidiaries, including China Agri-Industries Holdings Ltd, COFCO Property (Group) Co Ltd and COFCO Tunhe Co Ltd, will not be involved in the move.
COFCO Chairman Zhao Shuanglian says his company's plan was to have a small headquarters and big business segments to carry out the reforms of its operations and the management system.
The group says it will send full-time directors and supervisors to the 18 new companies to look after shareholder rights, but they will not be involved in the companies' decision-making and their business operations.
COFCO said its goal was to create from the 18 new companies two to three specialized units with revenues exceeding 100 billion yuan ($14.9 billion; 13.5 billion euros) during the 13th Five-Year Plan period (2016-20).
"The main task for these companies is making profit via different types of businesses," Zhao says. "COFCO will ensure they accelerate the integration and development pace to establish a modern enterprise system, and strive to achieve diversification.
"They will conduct businesses and bear the risks on their own."
Like other state-owned enterprises, COFCO is in the midst of a major restructuring process. This month, the State-owned Assets Supervision and Administration Commission announced the merger of COFCO with Chinatex Corp to create a bigger rival to compete with the so-called ABCD companies.
The term ABCD refers to the companies that dominate global grain trading, serving as middlemen between farmers and buyers. The groups are ADM Co, Bunge Ltd and Cargill Inc from the United States, and the Netherlands-based Louis Dreyfus SAS.
COFCO said on July 18 it will encourage its subsidiaries to hire more professional managers both internally and through open recruitment.
It also says that over the next three years, it will restructure and eliminate up to 100 companies, or 20 percent of its subsidiaries, that are not relevant to its core business and incapable of making a profit.
COFCO currently manages $71.9 billion in assets, has storage capacity of 31 million metric tons and an annual grain processing capacity of 89.5 million tons. It has businesses in more than 140 countries and regions throughout the world.
"As the government is welcoming private investors to participate in SOEs' stockholding reforms, the mixed-ownership model, transparent management and fair competition can be made possible," says Zhang Xiwu, deputy head of the State-owned Assets Supervision and Administration Commission.
zhongnan@chinadaily.com.cn