Chinese starting to click with online healthcare
Chinese people, who are increasingly tech-savvy, are embracing internet-based medical care, according to a new study.
A recent survey by Accenture, a global market consultancy, found that more people are accessing care services and health information via the web.
Of the more than 12,000 interviewed, nearly 80 percent said they had registered for online healthcare services using a computer, and that they were satisfied with the service they received.
Zheng You, an investment consultant manager with an online finance company in Shanghai, says the registration is the biggest benefit of internet healthcare.
"If you've been to a public hospital in China, you'll know how long the lines are," he says. "Most of the time is spent waiting, while the actual diagnosis time is very limited. For most working people, time is a precious commodity. Online registration can greatly improve efficiency."
About 70 percent of interviewees had accessed online medical services via a mobile app or WeChat, the instant-messaging service, and 75 percent had searched for medication and information on medication online.
Sixty percent said they have used online health consultation services, with 95 percent satisfied with the service.
Accenture says 98 percent of respondents were interested in using internet-based healthcare services. The demand is greater for registration services, online medical consultation, authoritative medical information, online diagnosis, and treatment and post-treatment management.
The survey report concludes that "internet hospitals" save patients from long wait times, allow them to choose a convenient time to see a doctor and to select medical experts from across the country and prevent cross-infection.
Yet while innovative services have revolutionized healthcare in China, challenges remain.
About 55 percent of those surveyed said they miss face-to-face interaction with doctors, and about 52 percent expressed concern about the prospect of no direct examination.
Half of interviewees were also unsure whether online medical care would be covered by their social health insurance or commercial insurance systems.
Thirty-nine percent raised concern about the disclosure of personal information.
"Admittedly, China's medical care reforms have not yet addressed the difficulties and inconveniences faced by patients," says Kher Tean Chen, life sciences lead and managing director of Accenture Greater China. "But the expectations of the people provide clear directions for the government to focus on as it works on improving the healthcare system."
shijing@chinadaily.com.cn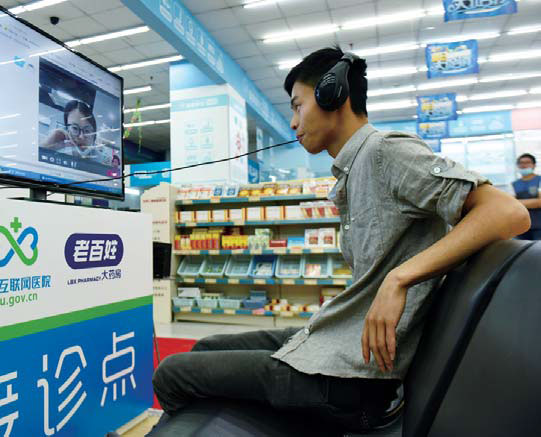 An internet medical service at a drug store in Hangzhou, Zhejiang province. Provided to China Daily