LA to test zero-emission trucks from BYD
Two of BYD's zero-emission trucks will be deployed at the Port of Los Angeles as part of a $26 million initiative to reduce emissions by the Southern California goods-movement industry.
The two electric trucks will be designed and built by BYD Auto Co Ltd at its facility in Lancaster, California, and are scheduled for December delivery, according to Andy Swanton, director of business development for electric trucks at BYD.
"It's a true OEM (original equipment manufacturer)-designed and built product," said Swanton. "It will be truly a zero-emission solution because there are no emissions from the generation of electricity and emissions from the vehicles themselves."
Solar panels will be installed on the roof of one of the warehouses at Pasha Stevedoring Green Omni Terminal. The 40-acre cargo terminal at the Port of Los Angeles will transition to solar power and other low- or zero-emission energy sources under the initiative.
Two of BYD's 1.3 megawatt battery storage stations will be installed to store the solar power during the day, and the electric yard tractors from BYD and some other electric terminal equipment provided by another party will charge from the battery storage stations.
Swanton described the yard trucks as off-road vehicles that are used in the terminal for moving and sorting containers; traditional yard tractors use diesel fuel.
"We are providing a solution that's all electric and will run and be used just the same as diesel yard trucks," he said.
Yard trucks operate daily for two shifts and occasional overnight shifts.
"All our electric solutions will be able to satisfy up to three shifts," he said.
BYD, which is based in Xi'an in Northwest China's Shaanxi province, focuses on three major markets - marine terminals, rail yards and warehouses - providing off-road trucks used at each of the three locations and over-the-road trucks delivering goods to the same locations.
"We are also developing a zero-emission on-road tractor-trailer solution that will have about a 100-mile range," Swanton said.
A project announced by the California Air Resources Board in May will provide funds to develop 25 over-the-road drayage trucks. Under this project, BYD will deliver five drayage trucks this year.
Drayage trucks travel short distances over the road and are typically used to move containers from ports to rail yards or warehouses, while the major off-road vehicles moving goods are yard tractors that don't travel on public roads.
The yard tractors and the drayage trucks are the two primary product lines that BYD will focus on in the transport space, Swanton said.
Last month, the state of California announced an award of $9 million to the San Bernardino Associated Governments for 27 zero-emission trucks to replace diesel-powered heavy-duty tractors used in rail yards. In this project, BYD will provide three medium-duty service trucks.
liazhu@chinadailyusa.com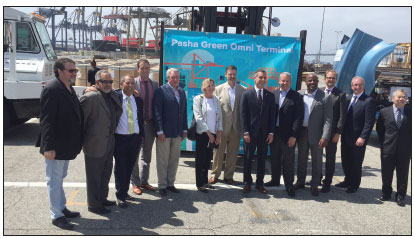 BYD joins Los Angeles Mayor Eric Garcetti (center) and other offi cials on July 12 to celebrate the launch of the $26 million Green Omni Terminal Demonstration Project, which will demonstrate zero-emission technologies in LA. Provided To China Daily